Beautiful People Linkup: In Which I Talk About Myself A Lot
7:00 AM
The past three months, I've done Beautiful Books, a blog linkup for writers done by
Cait @ Paper Fury
and
Sky @ Further Up And Further In
! Now, it's back to Beautiful People, and this month, it's focusing on authors. So I'm going link up, answer ALL the questions, and encourage all you lovely people to do the same.
This time it's talking all about myself, so I should be good at this one.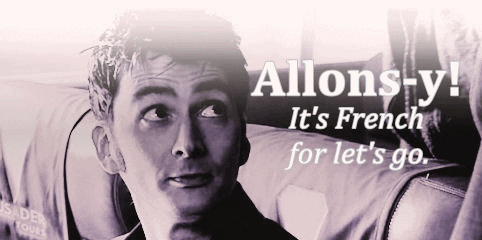 There will be GIFs, obviously.
1. How many years have you been writing? When did you officially consider yourself a 'writer'?
I've been writing seriously for about three years now, but before then for as long as I can remember. I began calling myself a writer for real when I finished my first little novella, which is something I still cringe at when I happen to find in my folders. But oh well.

2. How/why did you start writing?
I started writing with friends, as a way to make stories out of the complex storylines we'd act out when we got together. I got really into this. I still have draft upon draft of those stories - and I'd be lying if I said I don't want to maybe finish one one day, for old time's sake.

3. What's your favorite part of writing?
Characters characters characters. Let me said it again.
Characters
. My favorite part of writing is having these people pop up in my head, and getting to watch them grow and develop and become like best friends. What's cooler than that? Sure, sometimes they're rebellious, but it's so worth it.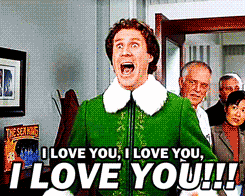 An Elf GIF after Christmas. Don't judge me.

4. What's your biggest writing struggle?
Tight, coherent stories. I'm a huge pantser, to the point of screwing everything up quite often, so
I really need to work on knowing what I'm doing
so it, you know, actually flows right and makes sense. *sigh* Also research. Research is my weak spot, especially for someone who has a penchant for sci-fi and historical fiction/steampunk.
But I have no clue what I'm doing. Ever.
5. Do you write best at night or day?
Night! I'm a huge night owl - I'd stay up to unholy hours every night if I could - and that's when I get the majority of my procrastinating about writing actual writing done.

6. What does your writing space look like? (Feel free to show us pictures!)
There it is! It's my desk in my room: I have a swivel chair obviously, my notes, a pen, the laptop and earbuds, various junk, and those post-its have favorite book quotes on them for inspiration. It's usually more messy than this, haha.
7. How long does it typically take you to write a complete draft?
Around three months, on average.

8. How many projects do you work on at once?
I prefer to have just one. I can't focus on all that stuff at once!
But at the moment, I have two
,
Pariah
to edit and
Havard
with the first draft. (You can find both in the
'Current Projects'
tab above!)
9. Do you prefer writing happy endings, sad ones, or somewhere in between?
Take a guess.
I'm a sucker for tragic endings if they're done well. I end up writing bittersweet endings usually (the best kind!) but I've gotten away with a few downright tragic ones. *evil laughter*
10. List a few authors who've influenced your writing journey.
Oh, that's a hard one. As a younger writer it was Tolkien who inspired my fantasy. Now, as a more serious writer, I've been hugely shaped by:
Neal Shusterman and his knack for incredible, unique writing, with layered and well developed characters that really made me think about my own.
Shannon Hale and her wonderful, out-of-the ordinary fantasy that encouraged me with my own fantasy/all writing ventures.
Scott Westerfeld, who got me into steampunk and helped me make that steampunk so much better! (seriously, go read Leviathan. It's great, and if there was a book that helped inspire my WIP Pariah, that's it, in a weird way.)
C.S. Lewis, who always makes me think about what I'm writing and the messages I'm putting into it, no matter what it happens to be.
There's lots of others, but those are my favorites.

11. Do you let people read your writing? Why or why not?
Oh, I'd shove it down everyone's throat if I could. I thrive off of encouragement and hard critique alike, and having people read it gives me accountability to actually finish the thing.

*waves to all readers/critique partners/anyone who's ever read anything I've ever written* I'm sorry.

12. What's your ultimate writing goal or dream?
To have someone, at least one person, care about a book I've written. Just one fangirl/fanboy who gets obsessed and flaily and loves my charries, that's all I ask for. (that's not too much to ask, right?)

13. If you didn't write, what would you want to do?
Be an editor. Or the host of Survivor. Or a missionary. Or someone with a life.

14. Do you have a book you'd like to write one day but don't feel you're ready to attempt it yet?
A real dystopia book. I think most YA 'dystopians' aren't really dystopian at all, and I'd like to try a thoughtful one more along the lines of 1984 or Brave New World (both of which are personal favorites). But alas, I'm not smart enough yet - someday, though, it'll happen. Probably.


15. Which story has your heart and won't let go?
So there we are! Now you know all my deep, dark secrets. Go participate in the linkup yourselves, peoples! It's a ton of fun.