Book Review: We Were Liars
9:54 AM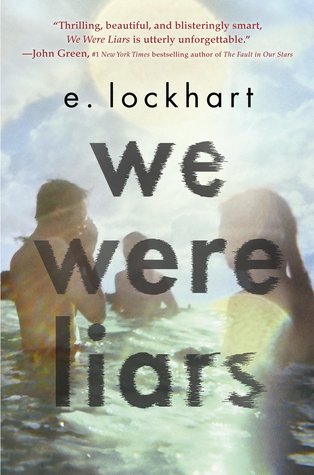 A beautiful and distinguished family.
A private island.
A brilliant, damaged girl; a passionate, political boy.
A group of four friends—the Liars—whose friendship turns destructive.
A revolution. An accident. A secret.
Lies upon lies.
True love.
The truth.
---------------------------------------------------------------------------------------
Let's get through this review without screaming, shall we?
This'll be a short review, honestly,
because I'm lazy
because if you've seen anything about this book you know that people who review it don't actually talk about the plot that much, and there's a very good reason for that. And I mean, do you see the summary? The whole point of the book is to go into it without knowing much of
anything
, which really bothered me more than anything, but I very quickly saw the reasoning for it.
I read this book in three hours flat, without putting it down.
Yeah, it's one of those.
We Were Liars is a contemporary with a twist, and a tiny book at that, so you can get through it in one traumatized sitting. It's about rich kids and private islands and a devastating accident that changes everything. And you don't know what's true, because I don't think I've ever read about a character as unreliable as this before.
Hooked yet? Because you should be.
Oh, yeah, and the writing's beautiful, absolutely gorgeous, but half
The book
Is formatted like this
For dramatic effect.
Don't let that bother you. READ THE BOOK RIGHT NOW. IT IS GLORIOUS. And that writing, oh, that writing...it's first person, written from the POV of our lovely protagonist Cadence, who...yeah, she has some issues. You're rooting for her, but you really can't trust anything she says.
Me the whole book.
And a quick moment about the setting! It was
lovely
- set on a private island for a rich family, so it's all beachy and starry and bright and colorful, and I
loved it
. It reminded me of my own vacation days, in the best way possible, even if the rest of the book was totally morbid. And in a way, that bright setting made everything even more drastic! *chuckles*
I can't tell you about the characters, because you really should get to know them yourself, but oh, I loved them all! Cadence, Jonny, Mirren, and Gat were all such great friends, such alive characters, and I just...agh. I JUST CANNOT OKAY. I NEED HELP.
The ending flattened me.
That is all.
You can find the book and put it on your Goodreads TBR (which you really should)
here
.
In addition, you can find
my
Goodreads
here
, and you should totally follow me so we can talk books and I can see what you lovely people are reading and such.
What about you? Have you read We Were Liars? What were your thoughts? How do you feel about going into books without knowing much about them? Do you like tragic/complex endings, or are you a happy endings kind of person? Comment away.