Maybe You Should Stop Writing
9:11 AM

I'm fond of that title. It makes this post sound really harsh, when in fact it's nothing of the kind. I'm giving myself cake for that.



Moving on to the actual point of the post. Today's the first day in a week that I've actually sat down and done some writing in something other than a short story. (Which I'm proud of and you can find
here
and
on Wattpad
, by the way.) This isn't normal for me. If I stop writing for a few days, I get out of practice, and it's super hard to get back into it, which isn't pleasant for anyone involved. There's a lot of facepalming involved. But over this past week/weekend, I decided that
I needed to stop writing.
I needed a break.
Between a first draft in one story and editing in another story and being 'behind' and dealing with short stories and procrastinating the whole way through, I got overwhelmed. I drowned in negativity. I wasn't happy with writing or the words that did make it onto the page, and it was a whole lot of frustration and tears that I didn't want, because that's not why I write.
I wouldn't want to stop writing for a few days every time I run into some frustration - I'd never get anything done that way - but in this case, it gave my overheated brain some time to cool down and plot, and by forcing myself to break, by the time the week or so was up I was dying to get to the documents again. Win.
I think sometimes we get so caught up in our stories and feeling like we have to push through or worrying about being behind or doing everything wrong that we're not enjoying ourselves writing anymore. We don't do it all for the enjoyment, but if writing becomes a chore that you dread doing because everything sucks and what will you ever do, maybe you need a break, like I did.
I just found this gif and I'm way too amused by it.
So there's your encouragement for the day!
Step away from the Word doc/notebook/whatever.
Go do something fun. Give yourself an hour or a day or two or three off. Get to enjoy writing again. It's not the end of the world if you take a break - we all need breaks, don't we?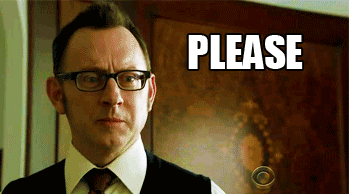 What about you? What do you do when the writing gets rough? Do you ever take breaks and step away from your current project? Do you think we should always push through and keep going no matter what? Comment away.