Why I Love Blogging (Yet Another List)
1:33 PM


Blogging is pretty darn awesome.

I started about eight months ago (feels like forever, really), never anticipating where I'd be now. It's been frustrating at times, but for the most part, I've felt extremely happy in the bloggy community as a whole. 'Cause's let's face it, there are some serious benefits.

*cue list*

1. Fantabulous people
This is probably the biggest one for me, the extrovert. (If I can't talk to people in real life it might as well be via the web, right?) I love the blogging community and the teen blogger community in general. I love the support and the funnies
and the gifs
and the incredible amount of love that goes around with commenting on posts and such. You guys are pretty hilarious.
2. It's a great place to rant
Book feels? I can write up a post about a book I loved and have a bunch of people feel the same way. I can fangirl over pretty much anything here and there's bound to be at least someone who understands. How often can you find that in real life?
Writing feels apply here, too. I can rant all I want about my story stuff and you can't run away screaming most of you actually care about it. TOO. AWESOME.
Also, it's socially acceptable to use gifs. So there's that.
3. Finding cool new stuff
I'm pretty sure I've added 200 books to my list of things I want to read since I started blogging, thanks to all you pretty sweet book bloggers. I've also found the Go Teen Writers community and several other fantabulous blogs/communities that I never would have discovered otherwise.
NEW THINGS. NEW PEOPLE.
4. New perspectives
And last but not least...
5. A whole blog all about me!
I'm kidding.
Sort of.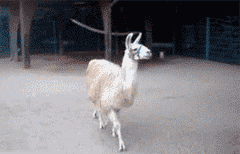 What about you? What's your favorite part of blogging? How long have you been blogging? Comment away.
(Also, I'm putting together a survey to start figuring out the cool stuff I'll do this summer, so keep an eye out for that.)