The 'Bad Boy Love Interest' Problem
2:34 PM
What, you thought I'd just leave with the girls?
This month is all about characters (we'll deal with villains next week, yeeeeaaaah!) and now that I've
ranted about female characters
, and
shared some of my favorites,
it's on to the guys.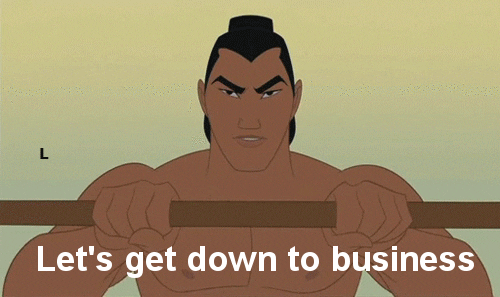 It was handed to me on a silver tray, okay?
I don't really fit into the book blog world in lots of ways (which I'm totally okay with; I'm creating my own little niche that I love) and one of them is that I absolutely hate the 'bad boy' love interest.
Now, you know what I mean. Think along the lines of Warner from Shatter Me, Morpheus from Splintered, Tobias from Divergent, and yes, even Loki. He's got great eyes (you'll know this because the MC will describe them repeatedly), he's tough, he's got a troubled past, and he's incredibly attractive (this you will also know).
He's also usually a huge jerk.
I just found this gif and it's amazing.
I have problems with this for many reasons, so I've made a bullet-point list for you.
They're jerks, and they're celebrated/glorified for it. (not cool, man. Not cool.)
They're usually all the same. (Tobias is unique in name only.)
They're incredibly attractive. (I like some variety.)
They're often emotionally abusive, and the MC has no problem with this/gives in. (Also very not-cool.)
They're just plain psychopaths???? (Warner, Morpheus, etc.)
I could go on and on about why these things are problematic, but suffice it to say it frustrates me. Because there's so much potential for all characters, including guys, and I hate that the glorified ones are, well, terrible people. Now, this might just be me. I take my fiction very seriously and I'm very much a nice-guy sort of person, so I have a hard time celebrating that. You're allowed to like the bad boys; that's totally cool. It's when they're emotionally manipulative idiots who are usually all the same that I take issue.
The MC being pushed around by an emotionally manipulative bad boy is the least cool thing ever.
I'm pretty sure most of you have at least heard of Warner from
Shatter Me,
and if you haven't, consider yourself lucky. The fandom raves over him -- what's so great about Warner, you ask, beyond his apparently being very hot (which is totally a legit reason to love a character?)? Well, he's a psychopathic murderer who tells the MC she has to love him, and who attempts to force himself on her, and has no problem shooting people for no reason at all. And yet I've seen a ton of posts and Goodreads reviews ranting on and on about how amazing he is.
This is problematic.
Call me overreacting, but this is basically glorifying an abusive relationship, too. This seems a little dangerous, especially if you're attracted to that kind of person and start looking for them in real life.
(And yes, I am very aware of all character development that goes on from start to finish with Warner in the
Shatter Me
series. I don't think it excuses him at all.)
Yes, I am fully aware that this is a rant. I do enjoy a good rant now and then.
Putting my own moral issues with this aside, there's
too many of them.
Just like the whole dark bad boy vs. blond nice guy love triangle thingy needs to stop (whose idea was that, anyway?) we need more complex guy characters in general, and not just love interests. It seems like there should be more of a balance between introverted personality-less guy and jerk love interest, yeah? I have several brothers, so I've been around enough guys in general to know that they're varied. In short:
Not only is the bad boy love interest a frustrating and usually somewhat abusive thing, he's also so generic there isn't usually a personality attached.
In the same way that we want to give female characters personalities beyond their awesomeness and attractiveness, guy characters and especially guy love interests should be a little more than hot and troubled.
Nice, sweet guys are perfectly acceptable. This is just as cool.
Let's just get rid of the troubled, emotionally abusive and manipulative boyfriend thing entirely. Or, at the very least, let's have the female main character see the problems in this, acknowledge it, and
stay the heck away from a relationship with him until he's shaped up.
Common sense with this is a good thing, I promise.
Guys have quirks and favorite foods and plays sports and shove around with other guys and can be totally oblivious with girls and have perfectly
normal
or even *gasp* happy pasts and fairly good relationships with their parents and most of them don't go around knowing exactly what to say to their girlfriend with a dramatic look in their eyes and all that.
And this is perfectly okay.
Rant over.
How do you approach writing male characters? How do you feel about most male love interests, especially in YA? (We'll talk about favorites on Thursday.) Comment away.