Should We Put Content Warnings On Books? (A Very Serious Talk)
12:43 PM


Just kidding. I can't do anything seriously.

*returns victoriously to the blog after hiatus, and therefore is a bit giddy as I write this*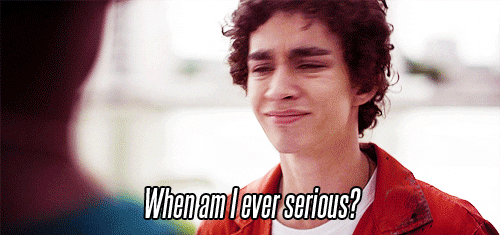 But anyway. Today we're going to talk about putting content warnings/ratings on books, and why I personally think that's a bad idea. Because how would you ever survive without my opinion.
Having looked over both of these posts and thought about my own opinion on this topic, I will now present you with my own opinion regarding this. Here's how it goes:
I don't think we should put content ratings on books.
I feel like I should preface this by saying that while I'm comfortable reading a lot of different things that one may find in a more mature YA book (or any book, really), I understand that not everyone is comfortable reading certain things, and that's okay. I can respect that 100%. I have little siblings and I wouldn't want them to read/watch certain things. We all have different levels of tolerance with more mature content and I'm not trying to slam anyone.
So there.
Now, Heather's post goes into all the logistics of why content ratings might be a bad idea, and she gets awesomely technical, but I am not gifted in that area so these are just my thoughts.
1. It doesn't take context into account. Let's say that we start putting little labels on the back of books with a content rating and maybe, like movies, a brief and vague list of the reasons why. "PG-13 for violence, intense sci-fi action, thematic elements" and so on. Now, this is great for someone who wants to avoid these things. But there's a vast difference between the sort of violence you might find in a bestselling thriller and something in, say, a historical fiction book about some important historical event. Sometimes it's more harsh, or less harsh, because of the context. (If that makes any sense at all; I'm rambling.) I would venture to say that books can be much more varied than movies in the way they present content.
2. It could turn people away from important books simply due to their content. Now, yes. I 100% respect someone's right to stay away from certain content. But I also think that there's a time and a place where it's important and okay to push your boundaries and go out of your comfort zone a little. There are some books that may be harsh, but they're eye-opening, and uncomfortable for a reason. Now, I'm not thinking your average YA novel. It's more along the lines of things like 1984, Brave New World, Fahrenheit 451, The Great Gatsby -- all books that are shocking, eye-opening, and have something to say about humanity that could change the way you look at things for the better. But they also have some pretty rough content that could steer people away. This sort of goes hand-in-hand with my first point. There are some books that are supposed to be important, and that don't condone or promote the content in them but use them as a tool to say something greater, and I'd hate for people to automatically set something like that down because all they saw was a content rating on the back. There's more to take into account than that.
Unfortunately, I cannot actually throw great books at you.
3. It comes uncomfortably close to book banning.
Book banning is bad, guys. We all know this. Banning a book because of its content (especially if it's an important book) is censorship and it's not okay, no matter what the book is. Once you start slapping content labels on books, it makes it very, very easy to see only the label, assume something about the book because of the content, and maybe even ban it from somewhere or some people because of that.
Not. Cool.
In summary:
Do I think it's a good idea to show discernment, and that it's okay to not read things you're not comfortable with?
Yes.
You are in charge of what you read. You don't need people shoving books down your throat. (There are plenty of sites where you can find out about the content in a book, or you could ask someone who's read it, and so on.) Do I think it's a good idea to start putting content ratings on books?
No.
That creates a whole host of problems that are by no means limited to the three points I listed above. (Like I said, Heather's post goes into all the technical details.)
Now, this is my opinion about it, and we all have varying opinions, and I'm not opposed to thinking about it more if someone brings up more good points. It's an interesting discussion -- thanks to Ana for making me think about it!
Do you think we should put content ratings on books? Comment away.