Sometimes I Fail At Writing
7:00 AM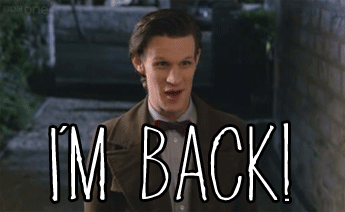 At last, I've returned for good! Summer camp and missions trips and all that fun stuff is finished, so we can return to our usual schedule (hopefully). I see my guest posters did a lovely job, of course, and no one died while I was gone, so it's almost a shame to take things back from them.
But now you're stuck with me again, so here goes nothing. (You'll hear all about my missions trip on Saturday because I have thoughts on it and I like rambling, so stay tuned for that.)
Today we are going to be talking about failure. Specifically, failure in writing.
"Oh, yes," you're probably thinking. "I really missed this kind of thing from Aimee."
I've accomplished a lot so far this year in terms of writing. More than I realize, I'm sure, because I have perfectionism issues, as many writers do, and lately I've gotten more and more frustrated and felt like more and more of a failure and it's generally been not-good. For one thing, I was intending to get Pariah out to betas in June. Early June. Now it's almost August and I'm getting a little closer to finding betas, but not really, and I'm months behind "where I'm supposed to be". Needless to say, this is frustrating.
So, I've been a little obsessed lately with the idea of me being a failure. I mean, how the heck am I ever supposed to be any kind of serious, dedicated writer if I can't even reach my goals on time? If I can't even create a plot that doesn't fall through ten billion times when I should have been able to see those plot holes and logical flaws right away? How could I have let myself get seven drafts in before I realized that most of these characters weren't even properly developed and need a lot of work?
But the more I think about it, the more I realize that this year of frustration and 'failure' and 'not reaching deadlines' has taught me a lot more than doing 'perfectly' would have.
For one thing, I learned a lot about plotting, and I learned it the hard way. Specifically, the fact that once you're seven drafts in you can't really afford to wing it anymore. You have to have a plan. Which I suck at, but I'm improving, and having some kind of plan is making things better and smoother.
Secondly, 'deadlines' mean nothing here. This is a first novel, and I need to remind myself that. I should be taking time. The more I rush to finish things and stay with some kind of schedule that I made up in the first place, and the more I freak out about not being on that schedule, the worse it is for that poor novel of mine. If I need to take time to work stuff out, so be it. (This is something I've not yet gotten into my head and heart, but something I'm really working on, because it's screwing me up.)
Also: it is getting better. Which is something I and many, many authors have a hard time with, I think. All I can see is the suckiness and plot holes because I've spent way too long rooming with this stupid little story and I'm all caught up in the mistakes and what I'm doing wrong. But if I take the time to look back at previous drafts and previous plots and the way the characters used to be, I really AM getting better. Vastly better, in fact. And with every draft and every rewrite things feel smoother, and I'm one more of those infuriating rewrites closer to someday in the next fifty years or so actually having a completed manuscript that I can start to query. Which is pretty dang awesome, when you think about it.
So yes, it often feels like the above gif.
Screw that, it pretty much always feels like the above gif. But I'm trying to remind myself of those three things I put up there, and get it into my head that I'm not a failure.
This applies to you all, too. Just in case I need to say it again.
You're learning, even if it feels like you're not.
Taking your time is okay -- it's for the best, in fact.
It's getting better, even if you can't see it.
I hope you all feel englightened and slightly less like failures, because these are important things to remember. So there.
Now that I've given you some wisdom to think on, here's some news:
I'M POSTING ON ANOTHER BLOG NOW. That's right, I'm officially a blogger for the brand-new, very fancy Young Writers' Treehouse, which is pretty dang awesome if I do say so myself. (I helped set it up and all that stuffs.) It's a bit like this blog only more professional and there's a lot of awesome bloggers contributing and adding unique voices, and there are already several posts up, so you should go check that out and definitely follow it right now. My very first post goes up on Friday and I'm rather proud of it, so check it out, pretty please?
I WILL be collecting beta readers for Pariah in August, for real this time. If you're interested, find the 'shoot me a message' form on the righthand side of this very blog and do, indeed, shoot me a message letting me know you're interested, so that I can add you to the list and get you more information on this and such. Don't worry, I won't lock you into a blood oath that you'll definitely read it. But I do want to get information out to interested people first.
There might very possibly be exciting blog news coming up in August and I'm a bit nervous about it aw yesssss
I have an Instagram now and I post pretty pictures and sometimes those pictures have cats in them. My username is @barricadeofbooks and I'd love to follow all you lovely peeps.
What do you do when you're in a writing slump? Did you miss me while I was gone this week? How do you keep yourself positive when you feel like a writing failure? Comment away.