August was actually successful, and I feel good about it.
I FOUND A BONES GIF MY LIFE IS COMPLETE
On The Blog
Basically: This was a successful month. We made some big changes, had a lot of fun, and so on. Thank you all for being so supportive and awesome! (On a side note, there are 65 of you now on GFC alone, not to mention all my Bloglovin' peeps, so that's amazing.)
Writing
Major, major stuff went down here. Not only did I finish draft 7 of Pariah, but I also sent it out to beta readers.
*horrified scream*
That's the first time I've ever done that before, and I have to say it was rough at first, but all of you beta-reader people way exceeded my expectations and now I have so much awesome feedback to work through and so many ideas already. So thank you all for that, so much! You seemed to all like it when you weren't yelling at me for traumatizing you. Not sorry.
I'm giving myself a break from Pariah for a while, to write a first draft! The sequel to a sci-fi I wrote way back months ago, Little Hero. (I shared a snippet from it here the other day.)
Also: If you're interested in seeing more about these stories, and also the other places you can find my writing on the internet, just check out the tab on my brand-new, really classy menu. This new blog design is making me incredibly happy.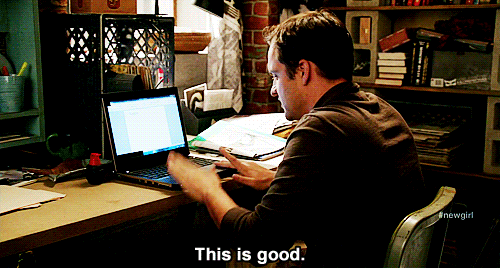 Bookish
Despite school starting up (*groans*), 19 books were consumed this month, bringing my total for the whole year to 163. I think I need a break.
Favorite Book:
Half the World
by Joe Abercrombie. The first book was my favorite last month, too...basically this is the best fantasy series I've read in a while and you should all go read them too. I'm in love.
Least Favorite Book:
Nobody
by Jennifer Lynn Barnes. I could find basically nothing that I liked about this book, so we won't even talk about it.
I have many unpopular opinions about books.

I ranted about them here

.
Alyssa tagged me for her Milk Tea Book Tag so

I did the thing

and it was fun and I rambled about The Wrath and the Dawn, which I adored.
Once again, I acquired no books for my own shelf. This is a tragedy that I must fix.
Around The Blogosphere
(is 'blogosphere' even a proper word?)
It was a very good month for lovely blog posts, guys!
Next Month:
I am in need of someone to guest post in October. If you're interested and willing, click

here

.
The theme for September is genre. I'll be talking about four different genres and the cliches associated with them and so on. We'll have a lot of fun.
Thank you all for being so awesome this month!
What was the best book you read this month?