Security Blankets: Taking Away What Our Characters Love
11:31 AM

Today's discussion is my favorite, because it involves breaking characters.


BEHOLD MY EVILNESS.
This is one of my favorite things to do because I'm a heartless writer who kills everything she touches I enjoy figuring out characters' weaknesses and exposing them for the sake of character development. So we'll jump right in.
Just like real people, every character, even that hardcore villain of yours, has a security blanket. Something that hides them from the world, or something they can hide behind to get away from other people, or something they can hide things under. Something they rely on and carry everywhere they go. Being in control, a physical addiction, being the cheerful one, and so on.
What makes for a really interesting story is when you rip that security blanket away from them and force them to cope without it.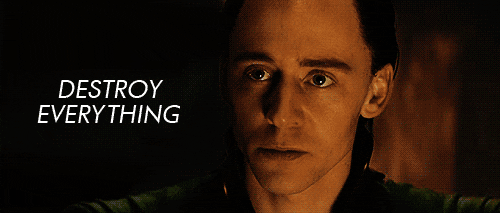 I don't think I've read a single book where the protagonist got through without having to face something difficult. Usually, this involved getting rid of the thing they like to hide behind, and then shoving them into an uncomfortable situation without it. (Katniss loses her privacy, June from Legend loses her blind trust in the government, Darrow from Red Rising loses his entire identify.) I've always been fascinated by what happens when you throw characters completely off-balance and force them to function on their own that way.
Usually there are emotional breakdowns involved.
For example, I had to do some blanket-snatching in Pariah just the other day. It involved taking control away from one character so they were in a position of needing to be saved, and also giving control to another character and putting them in a position where they needed to make the call to do some saving. These characters are radically different, and just by pulling the rugs of control/helplessness out from under their feet, I drove them to move the plot forward and do things they never thought they could just because I gave them no other choice. When the stakes are high and they have nothing left to lean on, characters can do some pretty interesting things that say a lot about their real character and often help build them into the developed character you want them to be.
Just do it.
Find the thing they love, and take it away from them.
What's your main character's security blanket? How do you rip it away? Are you an evil author, or do you like to cuddle the poor babies? Comment away.