The Perks of Writing Sci-Fi
7:00 AM
Yup, you guessed it, Week Two of our genre-themed month is focusing on
sci-fi.
This is my favorite genre by a longshot. It's mainly what I write, and mainly what I enjoy reading. And now, you all have to put up with me fangirling about it. (Also I'm going to use Firefly gifs for this post because sci-fi and I
can
.)
Is sci-fi hard to write? Undoubtedly. Just because it comes more naturally to me than most other genres doesn't make it less of a struggle -- one day it might actually drive me insane because
HOW DO YOU EVEN SCIENCE.
On the other hand, writing sci-fi is pretty awesome for a lot of reasons, and here are some:
1. Things can get pretty weird
Maybe this is just me, but I love my fiction as bizarre and out-there as possible, especially when it comes to sci-fi. Living steampunk prisons? Cyborg Cinderella? Giant moles and other usually small mammals? British immortal alien humanoids in time-traveling police boxes? Bring it on. Sci-fi has a whole universe (sometimes multiple universes/dimensions) of opportunities available, and I'll admit, that's pretty awesome as a writer.
Have I mentioned that Wash is my precious little snowflake because I adore him
2. An endless variety of settings.
Contemporary is self-explanatory when it comes to setting, as is historical fiction. Even fantasy is pretty much always (with some exceptions, of course) based on a real-life historical setting and there doesn't tend to be much variety. With sci-fi, however, you have so many planets and spaceships and alternate-dimensions and multiple time periods to choose from! Heck, you could have several wildly different settings in the same book. The options are pretty much endless.
And we will call it... THIS LAND. Which is honestly better than most sci-fi names we can't pronounce.
3. Science. Fiction.
Admittedly YA sci-fi has the problem of taking science out of science fiction
(more on that on Thursday)
, but for the most part, I adore seeing the science and the possibilities shown in science fiction, and exploring that myself. Sure, it's a stretch a lot of the time. It might not be actually possible. But that's kind of the point, isn't it? As I'll say in my next point: it's outlandish and I adore writing/reading that. Science Fiction presents us with a whole lineup of scientific possibilities, whether it's robot armies in the future, time travel, a steam-and-gear-powered Victorian Era, or cowboys in space. Most of the time exploring this science has something pretty intelligent to say about human nature and the world we're in now, too.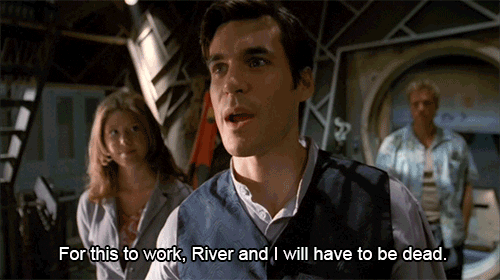 Because this is sci-fi, there's a solution for that. BOOM.
4. It's absolutely ridiculous.
Let's face it: most sci-fi is totally out-there. That's just how it is, and that's why we love it. The freedom to write totally goofy, fun things like Firefly or Incarceron or Railsea is pretty dang awesome. Heck, have you seen Doctor Who? It's an absurd ride and it's absolutely fun. Sci-fi is serious, yes, and I love it when it's gritty and hardcore, but somewhere in all that space exploration you can't take yourself too seriously.
But it's all good, don't worry.
And finally but not least importantly...
5. Those action scenes, tho.
SO MANY POSSIBILITIES. Zero-gravity fight scenes. Alien fight scenes. Aliens in general. Anything involving crashing spaceships. Epic.
Oh, Jayne, how I love you.
What's the point of all this, you ask?
To bully you all into writing sci-fi
to show you the wonders of the kind of thing I write, so you can all be amazed and want to write some sci-fi yourselves.
Carry on.
Do you write sci-fi? Have you ever tried? What's your favorite sci-fi movie/book/tv show?