Why Writers Should Read the Classics
7:00 AM


Yes, I'm aware of the fact that "classics" is not a genre.

We're going to proceed anyway.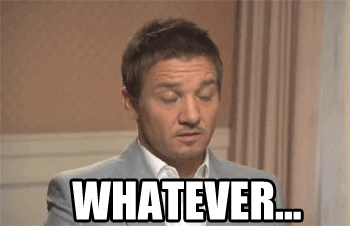 Just look at that sass.
I'm not sure if I've talked about this enough, but I'm a huge fan of the classics. I don't own as many of them as I would like but I could flail over them all day.
Brave New World, 1984, The Iliad, Les Miserables,
and anything by Mark Twain are all books that have influenced me and my writing in huge ways, more so than most of the more modern YA books I read.
The Great Gatsby
and
Lord of the Flies
are some of my favorites, also.
The point here is I could fangirl about any one of these classic books all day.
Now, I'm no snob about this. I don't read them and then proceed to analyze them and look at them closely. I discuss and think about them, yes, but I'm no genius. I just...enjoy reading them and getting those thoughts. And sometimes I go for long stretches without reading any classics at all while I stuff my brain with YA. There's nothing wrong with this. Or with not liking classics regularly, for that matter.
But I do think there's something to say for the way they can influence and teach us as writers.
They show us great writing. Self-explanatory. I grew up on Tolkien, Lewis, and a good helping of children's classics I can't even remember most of the names now. I really honestly think that had a positive influence on my writing as I began. And there's no doubt that the quality of writing in most of the classics is stellar. I mean, have you read The Great Gatsby? The writing is atmospheric, tight, vivid. Those descriptions, man. The language might be a little hard to wade through sometimes but it's quality stuff. It can teach us how to structure sentences, how to craft those one-liners that punch you in the gut, show us examples of sentences or paragraphs that make you think, and pretty much everything else. I'm convinced that just filling your brain with writing like that, even if you don't understand all of it (heck, some of the sentences in Les Mis turn my brain upside down) can affect the way you write and the way your sentences flow.
They make us think about great themes. Slightly snobby opinion: most YA isn't all that deep. Now, I'm not arguing about YA being smart, or capable of having stunning themes, or any of that. I've read plenty of smart, thoughtful YA books that made me think. There's quality stuff there as there is in any other genre. But there's also a lack of real substance in a lot of YA. There are some classics that were really written to drive home a theme or a situation or just make you think, and they're a great place to learn about theme in general. True dystopias like Brave New World, Fahrenheit 451, and so on, make us think about the government and what's really going on in society. Books like Lord of the Flies are a creepy and subtle commentary on humans and how we function. Reading classics inspired me to work themes like that into my own writing.
From Brave New World, which is kind of stunning and
everyone should read it.
They're classics for a reason. As writers, we want to write books that stand out. Books that people read again and again. Heck, I'd be lying if I said I didn't want to write a classic, something like Harry Potter that would be known and raved over forever. Or better yet, something like Lord of the Rings, that people still love long after the author is dead. That's the ultimate goal. But what is it that makes a book timeless, read again and again? What is it about To Kill A Mockingbird or The Iliad that keeps people coming back to it? What makes a really great book? Reading the classics can be a valuable insight into what kinds of qualities lead people to find so much value in these books.
One day I'll rant about Les Mis and you'll all see the level of my feels.
And finally, the most important fact:
They're just plain awesome. Have you read any of the Narnia books? They're awesome. H.G. Wells is bizarre and sci-fi and pretty scary and fun to read. Les Miserables will give you ALLLLL the feels and make you weep for days. There's some pretty exciting stuff that goes down in most of these books. They're not all dry and boring. If you take the time to really read them, you'll see just how much they can come to life.
That's my argument. I'm not sure what else I could say, other than:
I get that classics are hard to get into sometimes.
I get that not everyone runs around the room screaming because they're fangirling over
The Iliad
which I have totally never done because I'm a mature person
. That's okay. You're not stupid for not getting into the classics. I just think there's value in reading them anyway.
Do you have a favorite classic book?