Writing About Real People
7:00 AM
This week's genre was going to be
dystopia
because I have many feelings about dystopia, especially of the YA variety. But that got me thinking about what exactly I was going to ramble about when it came to YA dystopia, which led me to the many issues I have with YA dystopia, and one of them became a blog post all in itself so here it is.
I'm nothing but a rulebreaker around here, really.
Okay, so if you've read YA dystopia at all, you know the pattern, I'm sure. Personality-less teenage girl. Some kind of ceremony that marks their 16th birthday and gives them an important decision to make. A glittering society that calls itself perfect but actually has too many issues to count. A vapid nice-guy type, probably the blond childhood friend. A dark and brooding stranger. Cue love triangle. Girl can save this world. Angst, making out at odd times, the Rebels, drama, and so on. First person present.
A thrilling dystopia.
There are a lot of problems with this (seriously, a LOT). It's old, it's boring, it's full of cliches, there are almost always a thousand plot holes. Not cool, man.
But here's the issue I'm going to ramble on about today: they're not real people.
The teenage girl who is the only person in her society who sees the problem and the only one who can save the world and who wanders around and wails about a guy. The blond childhood friend love interest. The dark mysterious stranger guy. These are stereotypes. Cliches. These aren't real, living, breathing people. They exist for plot and romance. They're not original. You can spin them to be that way, but in most cases they're really just...not.
Ignoring the fact that most YA dystopia isn't actually dystopia, this is one of the hugest problems I have with the genre, and why it's hard for me to pick up a YA dystopia now without being disappointed.
Allow me to rant about The Hunger Games for a moment.
I don't know if you've realized my love for The Hunger Games. It's far-reaching and pretty much endless and I'll write about it forever and ever because seriously, guys, Suzanne Collins is my writing hero. Especially when it comes to characters. Do the three characters I've described sound kind of like Katniss, Peeta, and Gale? Well, yes, and honestly I'm pretty sure that's what a lot of these books are trying to imitate.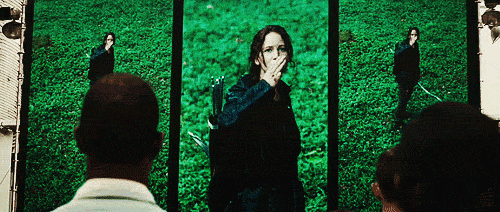 Katniss is one of my favorite YA characters for about a thousand reasons, and it all boils down to the fact that she's real. She doesn't wander aimlessly trying to find one guy or another, or ask stupid questions. Katniss gets things done. Until she's traumatized and turned into a shell of herself, which is realistic and important too. She has a family. She has likes, and dislikes. Come on, guys, she's really into food. What about that isn't endearing? She doesn't get distracted by this guy or the other when she's trying to keep them all alive. She puts that aside until she has time to deal with it (which, unfortunately, is almost never, but that's not her fault). She has a personality. She reacts to things, and is actually affected by them in ways that matter. The events of the story shape her in very realistic ways. I just really really like Katniss.
Peeta does not exist for the sake of a love triangle, or even just to be a love interest or a childhood friend. He's not the generic "nice guy next door" type. Peeta always reacts to and is changed in important ways by the story. He cares for people, is loyal but also flawed and complex. He saves Katniss. He's frustrated by her occasionally. He, too, has a family. Goals. Motivations. (But lets face it, I ship him with Katniss like crazy.)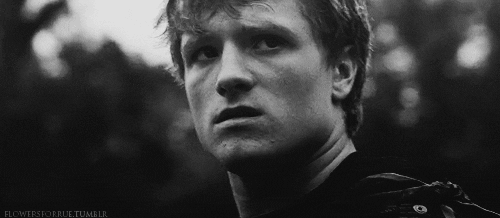 And just look at their adorable little faces guys.
You could argue this, I guess, but Gale is definitely not just the dark and brooding love interest. He's a childhood friend, too. He has a family to take care of, and he's loyal and devoted to them. He's devoted to Katniss, too, yes, and cares for her, but his whole life and story doesn't revolve around being the love interest. He has flaws and makes mistakes. He has a cause, and genuine reasons to dedicate himself to this cause. Maybe we don't like the way the story ends for him, but it's realistic.
These characters aren't stereotpes. They weren't created to fulfill a certain role. They feel real, through their personalities and reactions and interactions with the world. I could go in-depth about the rest of Collins' characters -- they're all that deep and developed, and I could talk about it for ages -- but for now, we'll leave it there.
It would have been easy to fall into the usual dystopia stereotypes here. But because the characters were developed, and human, they reacted to the events and shaped the plot rather than being hit in the face with the events and dragged along by the plot, kicking and screaming and making out the whole way.
I think we ought to try to write real people more often. Because real people aren't a stereotype or made to fill a plot. (Hey, look, I got to the point!) Real people react, shape the story, live lives, have personalities, have quirks, and so on. Real people are awesome -- I'm not always the best at writing them myself, but that's something I'm getting better at.
So there you have it: a rant instead of a helpful genre post. But hey, I do what I want.
How do you feel about YA dystopia? Do you have a favorite? Why?