Look at that, I survived NaNo.


*strokes the pretty fall colors*
It's Thanksgiving here in the US, and since everybody else in my blog feed has apparently decided to post something like this, I'm writing up a post late at night and jumping on the bandwagon. But I think it's worthwhile anyway: sitting here on my floor, an hour after finishing NaNoWriMo and winning for the third year straight, I'm realizing that I have a lot of reasons to be thankful.
So here are some things I'm thankful for, in no particular order:
A world to live in. Okay, but I think we ought to acknowledge this more often. I don't often remember that God's given us this whole world and a life and pretty things to enjoy and music and hearing and Les Miserables and hope and a future and all of that. So that's the best thing to be thankful for, being here at all.
Food. And lots of it, if you're like me and want allllll the pie.
I don't even watch Supernatural but I just had to.
The best best friend in the whole entire world. Because seriously, you're pretty cool.
Family even when they're annoying and I want to disown them I love them very much.
Neal Shusterman because Challenger Deep just won the National Book Award thingy for this year, which was totally earned and deserved, and the Unwind series is a gift to the world also.
Actual real-life friends that I have now, somehow, which is cool. Love you guys.
Online friends because you people understand me, and always keep me writing. Which I need. So thanks for that.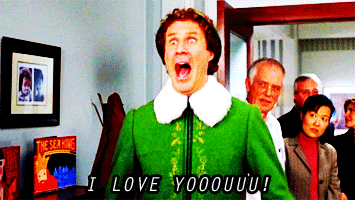 I can now feel okay using Elf gifs, so watch out.
Twenty One Pilots
because up until this year I didn't get it when people talked about a band changing their life, but that's much more understable now. Can't wait to see these dudes this spring and cry the whole time.
Switchfoot while we're on the subject of bands, because they're always and forever my favorite.
Grace because woah, how is a thing that we have when we/I so don't deserve it but totally need it.
Chocolate and I don't think I need to explain this one.
Writer friends because if I didn't have you I would be alone and sad. And finally...
All 11 seasons of Bones because I am so close to being caught up now and that's scary but this show has given me a way to binge-watch something fabulous when I should be doing other things since early July.
That's not an exhaustive list, of course, because when it comes down to it we should be thankful for everything we have in every way, but I'll leave it at that before I start rambling. If you live in the US with me: have fun eating lots of food today. If you don't: eat lots of delicious food anyway, because that's always advisable. I'll be back for real next week, to hit you with all the delicious details of my NaNo month. Aren't you just looking forward to that.
What are you thankful for this year?