#thestruggleisreal - Writing Woes We All Hate
7:00 AM
Being a writer is hard, guys.

So you're a writer. Maybe you write sci-fi, or fantasy, or historical fiction, or urban fantasy/time travel/crime (hello, Artemis Fowl). But no matter what you write, you've probably encountered some difficulties that are common to lots of us writerly hermit people. Stuff that would sound totally weird to - ahem -
normal
people.
The struggle is totally real.
I'll be using this forever because it's 100% relevant.
1. Too. Many. Plot. Bunnies.
You have something like fifteen storyboards on Pinterest, or floating around in your brain. There are some characters clamoring for attention but THEY HAVE NO STORY. One day, you'll get to all these things. But...today is not that day.
2. The disappearing plot.
Who knows, maybe it's gone forever. Having your characters wander around for 30k instead of going somewhere important will totally make up for not having a coherent plotline, right? No one will ever know.
Just wing it.
3. "Dear Twitter, I'm writing a LOT today".
I could also be binge-watching an entire season of Doctor Who. Or all of Sherlock.
YOU'LL NEVER KNOW.
4. What even are words.
You think I'm being productive, but I'm really just slamming the keyboard and hoping something coherent comes out.
5. "So what is your book about?"
It might just be about how I got away with murder.
6. Good books are just kind of...depressing sometimes.
"THAT PROSE, THOUGH."
7. Reading counts as writing.

(Right?)
It's the perfect excuse to not write words of your own.
8. Enjoying having a morbid Google search history.
The more gruesome and/or weird it is, the better. Writers take a weird sense of pride in this kind of thing. I mean, how cool is it that someone reading your search history could assume that you're a serial killer? This is not so much a struggle as it is a perk, I guess.
"AND HERE I FOUND OUT HOW TO STAB PEOPLE EFFECTIVELY."
9. People trying to read writing over your shoulder/interrupting your writing time.
We can be surprisingly violent creatures sometimes. Do not approach.
It's been so long since I've used a good Sherlock gif.
10. Writing.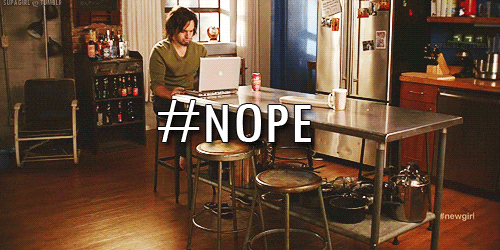 What's your [least] favorite writing struggle?