2015 End Of Year Survey - ALLLL the Books!
7:00 AM

Because this is a fun thing and books, you're gonna have to put up with it.


I read...a lot of books this year. In the interest of looking back on all of it, I'm stealing
The Perpetual Page Turner's
end of year book survey. Settle down for some flailing, peeps.
Number of Books You Read: 220-ish? *faints*
Number of Re-Reads: So many.
Genre You Read The Most From: Probably sci-fi. It is my heart and soul, after all.
Best Book You Read In 2015?
This is just cruel. I'll round it down to three:
Golden Son made me literally throw my signed hardcover copy across the room. Vicious appealed to the X-Men-loving, angsty writer side of me and was everything I aspire to write. Illuminae was a book I'd been waiting for all. freaking. year. and it did not disappoint. Obviously, I have a thing for very violent sci-fi that rips your heart out with a spork.
Book you were excited about and thought you were going to love more but didn't?
I pre-ordered An Ember in the Ashes, thinking I was going to love it, and then...I don't even know what I read. It was flat and lacking in worldbuilding and waht even was that romance they tried to give me? I understood none of it and it gave me all the sads.
3. Most surprising (in a good way or bad way) book you read?
I snagged an ARC of Bone Gap at my library because the cover was cool and vaguely creepy. It took me forever to actually read it, but when I did...wow. This book is pretty wonderful and I have no idea what it even was, but that's okay.
4. Book You "Pushed" The Most People To Read (And They Did)?
Challenger Deep. Because Neal Shusterman. And mental illness. And the most perfect writing in the history of writing. This book is so, so important for everyone to read, and I definitely shoved it down people's throats this year. If you haven't read it go read it immediately.
5. Best series you started in 2015? Best Sequel of 2015? Best Series Ender of 2015?
Best Series I started:
Illuminae is everything I've ever wanted and I. need. more.
Best sequel:
I would say Golden Son, but you already know that. In close second is Half the Sea because this, my friends, is what great fantasy should look like. (I finished this series this year and loved it, but the second book was by far my favorite.)
Best series ender:
Do I even need to explain?
6. Favorite new author you discovered in 2015?
Jay Kristoff, by far. The man is a genius. He's funny, sarcastic, and his writing makes me want to curl up and die because that's exactly how I want to write. His characters rock my world. He has a whole series that's Japanese steampunk and excuse me, that's everything I've ever wanted. Jay Kristoff rocks.
7. Best book from a genre you don't typically read/was out of your comfort zone?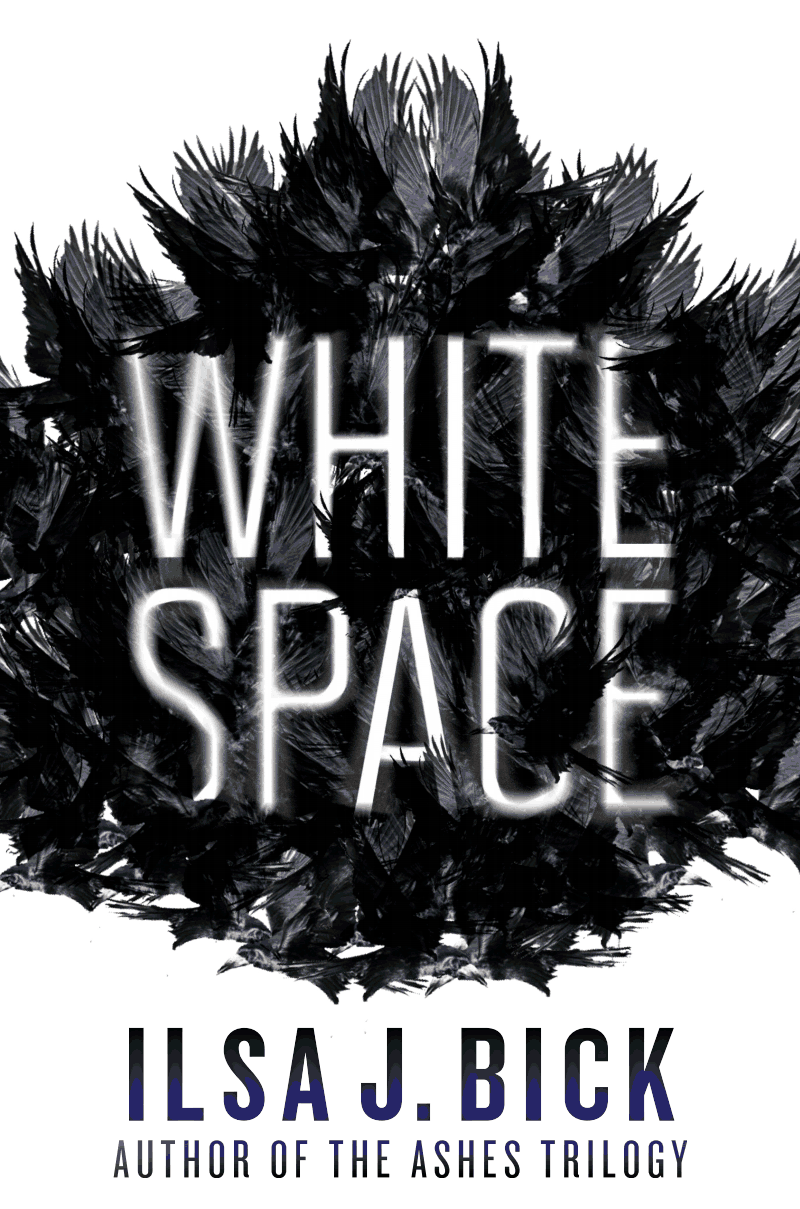 So I'm not even sure what
White Space
is, but I'm pretty sure it's horror. I enjoy scary things, but horror books are an entirely different monster
(shut up, I'm hilarious)
. I didn't know what this was when I picked it up and I'm still confused, but I do know that I loved it.
8. Most action-packed/thrilling/unputdownable book of the year?
WHY MUST YOU TAUNT ME WITH QUESTIONS LIKE THIS. Thrilling books are my thing.
Golden Son is obviously a work of art and THOSE FEELS, BRO. 17 & Gone disappointed me in the end, but I couldn't stop reading and it surprised me multiple times. Illuminae is a work of [violent] art. Half A War almost got tears out of me and sooo much went down I couldn't even handle it.
9. Book You Read In 2015 That You Are Most Likely To Re-Read Next Year?
Let's be honest, I'll probably never stop re-reading this one. (It's worth mentioning that last year I said I would re-read Scorpio Races, and I actually did that. Even if I fell out of love with Stiefvater books at the same time.)
10. Favorite cover of a book you read in 2015?
Everything about this book was beautiful, actually. But that cover. *strokes it*
11. Most memorable character of 2015?
I read Matt Fraction's
Hawkeye
comics this year and let's be honest, Clint Barton is the most fantastic character of all time. My love for this dude will never end.
Also, that art is gorgeous.
12. Most beautifully written book read in 2015?
*dies forever*
13. Most Thought-Provoking/ Life-Changing Book of 2015?
I'm total Iliad trash, 'cause I'm weird like that. But I read it again this year and may or may not have cried over fictional Greek heroes while learning thing about humans and honor and all that good stuff.
14. Book you can't believe you waited UNTIL 2015 to finally read?
I'm feeling all the feelings still and I don't even know why.
15. Favorite Passage/Quote From A Book You Read In 2015?
16.Shortest & Longest Book You Read In 2015?
The shortest was an Unwind short story. The longest was Words of Radiance and I have no regrets about that.
17. Book That Shocked You The Most
Aaand we're back to Illuminae or Half A War or maybe even Endsinger by Jay Kristoff. Feeelsss.
18. OTP OF THE YEAR (you will go down with this ship!)
BUT CRESS AND THORNE OKAY. I think they were my OTP last year too but I'll never be over it. A close second would be Alex and Miles from Made You Up. Ugh.
19. Favorite Non-Romantic Relationship Of The Year
Jackaby and Abigail from Jackaby are actually hilarious and it's the best thing ever. *smushes the babies*
20. Favorite Book You Read in 2015 From An Author You've Read Previously
I'm assuming none of you will be surprised if I say Challenger Deep again. Neal Shusterman is my one true author love.
21. Best Book You Read In 2015 That You Read Based SOLELY On A Recommendation From Somebody Else/Peer Pressure:
I didn't think I'd love this. I totally did. (Can we just talk about how hilarious it is?)
22. Newest fictional crush from a book you read in 2015?
KALADIN THO. *swoons*
23. Best 2015 debut you read?
Oh, the perfection.
24. Best Worldbuilding/Most Vivid Setting You Read This Year?
This is the weirdest thing ever. I loved every bit of it.
25. Book That Put A Smile On Your Face/Was The Most FUN To Read?
This is the cutest, okay. I'm all the way here for alien exchange programs and fluffy romance and sass.
26. Book That Made You Cry Or Nearly Cry in 2015?
You guessed it: It's probably Challenger Deep.
27. Hidden Gem Of The Year?
This had the best Southern USA vibe that reminded me of being a kid, and it was super creepy, and the writing was fantastic. I just. *flailing*
28. Book That Crushed Your Soul?
So much hate. So much love.
29. Most Unique Book You Read In 2015?
I didn't love this in the slightest, but it wins points for having the best concept. (And Indie Kid Finn was beautiful.)
30. Book That Made You The Most Mad (doesn't necessarily mean you didn't like it)?
*shakes fist* I WANTED ACTUAL SCI-FI RACING AND MY ADORABLE SHIP, GOSH DANG IT ALL.
Yeah, this thing is long. Oh well.
1. New favorite book blog you discovered in 2015?
I'm not a huge fan of book blogs in general (heyyyy, maybe I'll write up a post about
that
, wouldn't that make me some friends) so I can't really think of a specific one. But...
Katie's blog
makes me very happy. (Heck, Katie makes me happy in general. She's the best blogger/beta reader.)
2. Favorite review that you wrote in 2015?
3. Best discussion/non-review post you had on your blog?
4. Best event that you participated in (author signings, festivals, virtual events, memes, etc.)?
I didn't do anything this year because I'm boring. *sighs wistfully*
5. Best moment of bookish/blogging life in 2015?
This year I got a ton of comments on various posts, as well as some messages, talking about how I'd inspired people to start writing again or write more or whatever. I didn't intend to do that, but let me tell you, that meant a lot to me. It really helped me stay on track and keep writing when I struggled this year.
That was pretty cool.
6. Most challenging thing about blogging or your reading life this year?
Staying consistent with blogging. I didn't want to blog for a lot of this year, but I'm glad I pushed through anyway. Hopefully I'll be better at that this year.
7. Most Popular Post This Year On Your Blog (whether it be by comments or views)?
Writin' Accents
. I have no idea how this happened because I consider it one of my lamer posts, but whatever.
8. Post You Wished Got A Little More Love?
In Defense of Twilight
, because it's a topic I have a lot of feelings about. Don't worry, you'll hear way more this year.
9. Best bookish discovery (book related sites, book stores, etc.)?
10. Did you complete any reading challenges or goals that you had set for yourself at the beginning of this year?
I pretty much doubled my Goodreads goal this year, so that's a thing. I don't know how that happened.
1. One Book You Didn't Get To In 2015 But Will Be Your Number 1 Priority in 2016?
Hello, NEAL SHUSTERMAN. AND UNWIND. I can't believe I didn't pre-order it or something. *hangs head in shame*
2. Book You Are Most Anticipating For 2016 (non-debut)?
*SCREAMS*
3. 2016 Debut You Are Most Anticipating?
I...actually don't follow what debuts are coming out? *shrugs*
4. Series Ending/A Sequel You Are Most Anticipating in 2016?
Gemina, the Illuminae sequel. It promises many feels and I'm so here for that.
5. One Thing You Hope To Accomplish Or Do In Your Reading/Blogging Life In 2016?
Probably post more when I actually would like to? And review more books on Goodreads because I suck at keeping up with that.
Look, it's finally over.
Bye, 2015.