Beautiful People: In Which I Have Lots of Writerly Goals
12:35 PM

Just in case you weren't tired of hearing me talk about New Year's goals already.

I'm linking up with
Cait
and Sky for
Beautiful People
, a monthly link-up all about writing and showing off our characters and good stuff like that. The theme this month is
writerly resolutions and goals
. Let's do this.
What were your writing achievements last year?
Well, Pariah got a new plot, so that's exciting. I was really stressed about it but I pushed through and it worked out well. I wrote out three or four first drafts as well which was more than I had planned.
And I also got third place in a writing contest??? Wow.
My Hamilton obsession may never end and I'm not sorry.
Tell us about your top priority writing project for this year?
Yeah...let's face it, it's probably Pariah. I'm hoping this is the last major rewrite I'll have to do, so most of the year will be just whipping it into proper shape...again...
List 5 areas you'd like to work the hardest to improve this year.
Are you participating in any writing challenges?
It goes without saying that I'll be doing NaNoWriMo. Also both Camp NaNo challenges, if I can manage that and I don't have anything else come up. As for things I need to improve...
- Everything.
- having a definite writing schedule. I suck at that and not a lot gets done as a result.
- chilling out about perfectionism because that is my downfall.
- plot holes because there are too many always.
- on that subject it would be cool to learn how to outline beforehand??? My pantser self hates that.
What's your critique partner/beta reader situation like and do you have plans to expand this year?
It would be cool to have a definite critique partner, but I haven't got one yet. So maybe I'll find someone I click with this year? That should be a goal of mine too. *sigh*
Other than that...I had beta readers last year and they were
awesome.
Seriously, I love you guys. I have a rapidly growing list of people who will read the next draft of
Pariah
when it's finished, so...pressure. But that should be interesting.
yo, if you're interested in being on that list, let me know?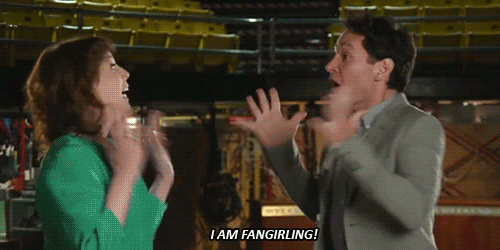 Do you have plans to read any writer-related books this year? Or are there specific books you want to read for research?
Yep! I would absolutely love to read more writing books this year. (Have any suggestions? Let me knowwww.) As for specific books...I have The Victorian City and The Invention of Murder, both by Judith Flanders, for research purposes. (For Pariah, yes.)
I'll probably also read The Iliad again, more in-depth this time, to prepare for my sci-fi adaption. *flails* And lots of Greek plays/poetry. As you do.
Pick one character you want to get to know better, and how are you going to achieve this?
Ughhh I need to work on Scarlette, my lovely rich girl/ ultimate hardcore person from Pariah. I love everything about her, but she's the total opposite of my personality and she always gives me the most difficulty out of anyone. As for plans...lots of character sketches? Mostly just writing her more? I don't know. I'll figure it out as I go or not.
Let's face it, she's the Cosette of the story. And I never understood Cosette.
Toni Morrison once said, "If there's a book that you want to read, but it hasn't been written yet, then you must write it." What are the books that you want to see more of, and what "holes" do you think need filling in the literary world?
OKAY I HAVE ENDLESS OPINIONS ABOUT THIS.
I want to see more books like Challenger Deep, that approach mental illness from the perspective of something that doesn't make you any less of a person but still needs to be fought and conquered. I want more mental illness books that have a hopeful outlook and feature characters who have a support system and are okay with medication because it's a helpful thing and work hard to be more than their mental illlness and all that good stuff. Also, more sci-fi/fantasy/dystopia books with characters with mental illnesses that aren't just mental illness books.
Less "chosen one" books and more books like Unwind, about actual normal people who have to work hard to be the hero. More books that make you think. I think the literary world, especially YA, needs more books that make you think and don't cut corners when it comes to tough decisions.
Also: we need more steampunk. YA steampunk especially. PLEASE.
Except not and I'm planning another post about this.
What do you hope to have achieved by the end of 2016?
Oh, so many things.
I want to be happy with Pariah. I want to have finished another draft of Havard. I want to write my Iliad adaption. I want to get published in a magazine or something like that. I want to be a more consistent daily writer. Allll the things, as usual.
Also: I will never apologize for Hamilton. Ever.
What do you want to accomplish this year when it comes to writing? Do you have better goals than I do? Somehow?