Prepare for Hamilton gifs.
So concludes the first month of the year. Sigh.
I'm exhausted, you guys.
My schedule wasn't as consistent as I'd hoped but you know how that goes.
I refuse to apologize for my Hamilton obsession.
GUYS. I am almosttttt at 100 followers. Almost. That's kind of amazing. *showers you all with chocolate* (I promise I'll have more posts for you in February, as a reward.)
Hahahaha.
You won't be surprised if I tell you it was a Pariah month. A huge Pariah month. I've got another list of beta readers lined up, so that adds some pressure. I've been less consistent than I'd like to be with re-writing, but honestly it's been worth it. This plot is working out better than any plot before, and while I'll need to do some serious proofreading before I send this to people, I'm enjoying writing it immensely. My precious steampunk babies are getting into all kinds of trouble.
Oh, the precious troublemakers.
Aside from that I put some
We Caught A Vampire
on Wattpad --
you can find that here
. I'm throwing all the things to read at people on the internet this year.
and only partially stressing about it.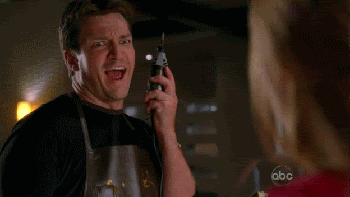 Richard Castle the writer is actually me.
ALSO. I wrote 12k in one day with the lovely
Katie
. We both survived. Somehow.
Yes, I'm trying to read 250 books this year, and yes, I'm starting to regret that, but no, I don't intend to change my goal anytime soon. This month in particular I read maybe 18 books? So that's cool.
Favorite Book: Unbound. It's (a Neal Shusterman and (b a collection of short stories from the Unwind world, so that speaks for itself. It was horribly amazing and disturbing. In close second is Placebo Junkies. I didn't expect it to be good, but it blew my mind and oh my gosh.
Least Favorite Book: Both of Me, which I didn't finish because the writing was pretentious and I just couldn't. But as for ones I actually did finish...Rule of Three was just plain plotless and dull and Quarantine was nothing but angst and unrealistic teen violence. Sigh.
Comics: Ms. Marvel, which was surprisingly fabulous and 100% hilarious. (Also it featured an unexpected Wolverine appearance that couldn't have been more perfect because I am a sucker for surprise Wolverine in all situations.) I wasn't the hugest fan of the art, but other than that I adored it.
This month I bought Unbound (of course), and pre-ordered both Morning Star by Pierce Brown (*SCREAMS AGGRESSIVELY*) and Calamity by Brandon Sanderson. I can't wait for both of them, because they'll probably break me.
I just don't.
So much stufffff.
The Hamilton obsession continues, and none of you are surprised. But let's be honest: I'll always have a secret fondness for snarky rap-battle Thomas Jefferson.
Someone: mentions something I love

Me: ThE PEOPLE ARE ASKING TO HEAR MY VOICE

— Aimee Meester (@theAimeeMeester) January 30, 2016
this is a Very Legit Broadway Show and I love it so much
I'm on Season Four of
Castle,
which I'm watching with the little bro. Rick Castle is everything.
I finally know where this gif is from. It's beautiful.
AGENT CARTER IS BACK. I AM WATCHING AGENT CARTER. PEGGY CARTER IS AN ACTUAL FLAWLESS HUMAN.
There was a new Neal Shusterman book this month and he announced a new one so, like, I'm on top of the world.
You knew Neal Shusterman was coming. also a jefferson gif.
Gettin' real excited for the TOP concert in May, you guys.
my new favorite man.
Lifeeeee. *angsts*
School is...a thing that's happening? Not a bad thing, though. I'm doing a ballroom dancing class this semester and that's going well.
I tweeted a lot? But I always do that.
I went to Pittsburgh! It was fabulous. And very cold.
I was tired a lot. Obviously.
I'm driving now???? Scaryyyyy.
Basically, life was life and January is not my favorite month. *mopes*
So.
What did you do this month?