So Many Stories, So Little Time
7:00 AM

Because I feel like it.

I probably have twenty-something plot bunnies floating around in my brain right now, but only ten of those are worth plucking out of my imagination, paying attention to, making Pinterest storyboards for, and generally allowing into my life. These are the ones that have the closest I'll ever get to a basic plot idea and characters and such, and I'm very excited about some of them so I'm going to shove them down your throats today. I'd like to get to most of them this year, but honestly, what are the odds of that happening?

The plot bunnies are conspiring against us, I swear.
So here are some of the things invading my brain at the moment:
note: none of the pictures are mine; I stole them all off Pinterest.
1. Sci-Fi Con-Man Ballet Thing
this thing really needs a better title.
I'm pitching this as
Guardians of the Galaxy
meets
Ocean's Eleven
and it's very dear to my heart so it's the next one I want to write. The title up there is pretty self-explanatory but: there's a teenage ballet prodigy named Finch who also happens to be a conman who gets involved in a pretty elaborate heist involving his jerk father. There's also friendship and hardcore INTJ criminal ladies and fluffy ballerina girls and
spaceships
and stealing spaceships and if I'm being honest with you people I think it would make a fantastic movie.
Yes, yes I have. *has all the love for Ocean's Eleven, btw*
2. That One Fantasy Thing
This one...has much less of a plot, but I still love it. I don't usually write fantasy but this popped into my head and I suck at saying no to plot bunnies. It's about sisters, wild clans by a choppy grey ocean, young men who live forever, a hint of magic, and blood sacrifice because every story by me needs a splash of something morbid and/or bloody.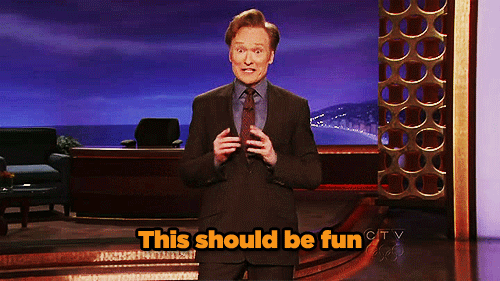 Literally my face while plotting anything.
3. The Sci-Fi Iliad Thing
The Iliad is one of my favorite stories ever, and also one of the few stories to actually bring me to tears. I read it again this year and I'm forever in love with the angst, honor, bloodshed, and everything it says about raw humanity. So how better to honor that than to write a sci-fi adaption with spaceships and cool armor in which I genderbend Patroclus, Hector, and Odysseus and kill everyone and their feels.
Needless to say I can't wait to write this thing.
don't ask me about my Achilles feels unless you want something like this.
4. Fury
This dark little thing is a sci-fi Phantom of the Opera adaption. Because there's no stopping me now.
Anyway. It's set in a sci-fi prison/maze that's spinning through the stars and there is angst and literal darkness and insanity and I love my precious babies so this should be interesting.
5. Schadenfreude
In which Aimee wants to write about a boarding school for rich sociopath boys. Because she's strange and morbid like that.
6. Calico's Boots
A steampunk adaption of Puss in Boots, set in Italy. I don't even know what this one is yet but there's sass and steampunk nonsense and it'll basically be a ton of fun. Because Puss in Boots, guys.
What you can take from this: I like to write weird stuff.
What plot bunnies would you like to get around to writing this year?