Prepare for lots of stuff and maybe a new-ish format?

So. We've reached the end of February, which is crazy. BUT SPRING IS COMING.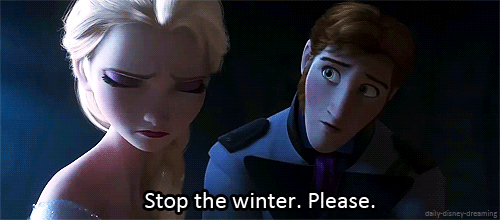 PLEASE.
Yeah, it happened.
If you haven't seen

this video

you should immediately.
Essentially, I'm figuring out how I want to schedule things and do different-themed stuff, so you'll see that in this upcoming month, I promise. I'll try to skip as few days possible, hopefully? Sigh.
I've somehow managed to not be way behind on my 250-book goal? I read 21 books this month! Including some comics and non-fiction. Go me.
Favorite Book: I read so many mediocre books this month, BUT. Morning Star came out. So did you really expect me to say anything else here? It blew. my. mind. Made me cry. Send help. Pierce Brown will slay me one day. (AND HE'S WRITING MORE BOOKS. LORD SAVE ME NOW.) But Alexander Hamilton -- yes, a biography -- is close second. That made me cry too. I have a problem.
Least Favorite Book: My Heart and Other Black Holes struct me as really problematic? Enough with a love interest being enough to save someone or cure them of their mental illness. Let's just not.
Comics: All-New Hawkeye was feelsy and blew my mind and I adored the art. Clint Barton will forever be my favorite superhero, and his comics will always have my heart. Daredevil was HILARIOUS and the best introduction to Daredevil's story. (I need to watch the show now, if only I had Netflix...) Ms. Marvel just gets better and better the more I read. Excuse me while I ship aggressively.
Lots of reading went down this month.
Oh my gosh, you guys, it actually happened this month.
So. As you may know from
this post
, I've spent a while now suffering under the weight of what I call
the writer's block of death.
With
Pariah
. Ugh. I ran into a wall. Nothing was happening. It was the actual worst. I was ready to throw the whole thing away in frustration.
AND THEN I BROKE THROUGH.
That's right, Pariah re-writing is going ahead at full speed again, and I've never been happier with this plot. I'm finishing this beast by the end of March, I swear. Hold me accountable, peeps. Bug me here. Bug me on Twitter. Let's make it happen so I can send it out to my impatient betas. (Love you guys.)
Me, smashing through the writer's block.
Other than that.
We Caught a Vampire
suffered this month, as in, I posted nothing. THAT IS CHANGING THIS MONTH. (I've been shouting at you a lot in this post? Whatever.) Anyway, expect to see new chapters. Sorry. February kinda steamrolled me.
I feel like this is always gonna be the longest section. Look how much I care.
I'm caught up with Agent Carter and let me tell you, I could not be more pleased. Peggy and Jarvis and Sousa kicking butt together is everything I've ever wanted ever. The sass pleases me. The music pleases me. The outfits please me. The shipping pleases me less because I will always support Peggy and Steve and can't get past that, but whatever. This season couldn't be more perfect, even though it's hitting me with alllll the feels and ugh.
Can we please just take a moment to give the costume designers all the awards.
That's right, the Hamilton obsession continues in full force. I'll never be over it at this rate and I'm okay with that. But they won the Grammys and I'm unreasonably proud of them, so there. (That performance was just. I need to go see this stupid thing already.)
BYE.
Started season 5 of Castle with the little bro. We're enjoying wailing over the feelings immensely. Except not. Because too many feelings. On the bright side, Nathan Fillion make everything better, especially when he throws out Firefly jokes.
the costume bit a few seasons ago was flawless.
The Twenty One Pilots obsession also continues. Three more months and I'll be seeing them in concert, you guys.
Hamilton isn't the only musical I've been obsessing over. I rediscovered my childhood favorite, Newsies, and found Next to Normal. I've been enjoying alllll the Broadway lately.
SWITCHFOOT IS MAKING A NEW ALBUM. Yasssss. I'm so happy about this.
I started watching Star Trek: The Next Generation because I might as well get another stamp on my Ultimate Geek card at this rate. Whatever. I like it a lot, and you'll see a post on it this month because I have thoughts.
Data is such a precious cutie.
Basically: Lots of fandom stuff.
What did you do this month? What have you been watching/reading/flailing over?