Writing Is Personal
7:06 PM

*shudders at the thought of emotions*

Yeah, maybe we'll have a bit of a serious talk today? *shrugs*
I've been thinking about what I love about writing lately. There's lots of reasons, obviously, because I'm a bit of a masochist. There's the rush of putting together words into sentences that I might even like. There's characters to fall in love with and plots to discover. Flailing with writer friends is a big bonus. But the part of writing I don't think about a lot is that it comes from the heart; it makes me take experiences and emotions that I might not want to share with a stranger on the street and pour them out into something. When I'm writing, I can take those feelings and use them to create something that talks better than I ever could. It's a unique way of processing emotions and learning about myself and the world around me, and sharing those thoughts with others.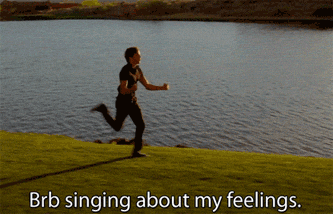 sameeeee honestly.
That's scary, you guys. But it's made my writing so much better.
Every novel I've written recently has taken something out of me. Pariah makes me dig deep to figure out the very worst parts of me (and some of the best?) so I can explore how I would work through things. Havard goes into my mental illness and is basically therapy in that area. Crimson Gods let me release a lot of frustration and current feelings. WCAV is more on the warm-fuzzy positive side of things, but it has things to say about friendship and puns and Doctor Who references and such.
Every single one of these novels has taught me something important and helped me figure out my own emotions by exploring them through another character.
It's terrifying, but it's worth it.
I had to get to the point where I could do that. I had to be able to look at what I was feeling, and then get used to putting words like that on the page/word document/whatever. I had to figure out how to be vulnerable with myself and see some of my own feelings in my own characters on my own laptop -- that's weird.
So yeah, I'd recommend it, but it's not necessarily fun.
Last year was the year of learning how to do that. This year is the year of really doing it, I guess. It makes my characters, writing, and story stronger, once I figure out how to break down my own walls (I have a heart of stone) and get to work.
*angsts because emotions*