Yep, bring on the Loki gif.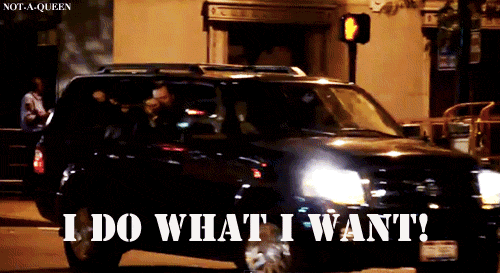 Today we're gonna get rebellious.
Because that never happens around here.
I wanna talk about a
thing.
This thing is the idea that there are
dos
and
don'ts
to writing different genres, that there's one way to approach writing a story, that there are
wrong
ways to write a story.
You know what I think about that?
"How to write a fantasy novel." "Dos and don'ts of writing a successful sci-fi story." You see that? Throw that stuff into the cold heart of space.
Actually, no. Do what you want, as I'm saying here. But you get the point.
By now you've probably realized that this whole blog is basically me ranting on and on about stereotypes and cliches and the problems with (most) YA books, so it should come as no surprise when I say that I think we have a problem with sticking to the norm, being afraid to write unique things, genre-bending things, things that don't fit the way you should write a [insert genre here] story.
Some of my favorite stories ever cross genres and go weird places and do it well. Firefly is a glorious mish-mash of cowboys and space and Chinese lingo and it's flawless. The Lunar Chronicles retells fairy tales in a hard sci-fi setting and that works too. Railsea smashes together Moby Dick, steampunk trains, and giant creatures that live under the earth. Slaughterhouse-Five takes a random dude in WWI and throws him into a non-linear mess of aliens and warped time and imprisonment. These things are weird. They work.
There is no one way to write any genre.
So I guess the point of this rant is, do what you want? Don't bother asking "is this too weird?" Just write the thing. You'll find people who will love it, because people love unique. Writing is all about breaking rules, testing limits, finding new ways to say things.
I mean, I can't tell you what to do, but whatever.
Sometimes I get insecure because my story ideas seem so out there that how could they be anything but dumb? Who on earth wants to read them? Is it even a real steampunk novel?
What's a real steampunk novel, anyway?
I don't think we should be afraid to write weird stuff, or experiment, or mash genres.
Please do
. I'm trying my best because we've worn the usual, the stereotypes, absolutely ragged and I don't have much patience for them anymore. Don't stress about something being too cliche, or too stereotypical, or too out-there, or too distant from any one genre, because that doesn't
matter
. You've brought your own unique spin to the story you have to tell, and you should flaunt it. Because you're cool like this.
I need to hear this all the time so I consider this a note to myself, too.
Basically: