Writing this late at night from a hotel room after a long day of walking around thinking about art, so don't expect me to be coherent. Sorry in advance.

still using this sucky image because i'm too lazy to make a new one.
MARCH IS OVER ALREADY. WAHT. SPRING IS UPON US.
BLOGGING
I think I did pretty okay this month! Not as good as I'd have liked to, but pretty okay. Let's just have a round of applause right here.
I think I'm working things out? I have ideas for more posts this upcoming month, so never fear. More bitingly-sarcastic and probably late posts will come your way in April, if I survive the first week or so of Camp NaNo. But more on that little hurdle later.
BOOKISH
I'm 6 books behind on my goal for the year now, so... *wails* Summer is approaching, though, so hopefully I'll have a chance to pick up on the slack and read like a fiend then. Otherwise...oh well. This month, though, I read a fine 19 books, so I don't feel too badly about it.
(See How They Run not included. That was last month.)
Favorite Book: I actually read a ton of good ones this month, comics included, so that's fabulous. But my overall favorite turned out to be Catch-22. ACTUAL PERFECTION YOU GUYS OH MY GOODNESS. I've never enjoyed a school read so much before. I need to read it again, immediately. Everyone should go read it. Gooo.
Least Favorite Book: I expected to like Not If I See You First, but mostly I was just...confused? And disappointed. I'm not sure what the point of the book was and it wasn't great anyway. (Zebulon Finch was pretty bad/pointless too, but that had more redeeming qualities. Sigh.)
Comics: Lots of new Marvel! A Marvel Now! omnibus happened, and that was mostly enjoyable. Runaways was meh but entertaining. I'll love Daredevil forever and ever and ever, can I just adopt Matt Murdock and give that boy a hug. But Hawkeye...oh, Hawkeye. I'll never be done crying over Hawkeye. That's all.
I read so many good books this month???
WRITING
This, too, is going fairly well.
What is this madness.
Draft 9 of Pariah is working out splendidly, in characteristic distressing fashion. I broke through all/most of my plot issues and started writing like a madman again, which resulted in me being almost. done. with. this. stupid. draft. Not quite where I wanted to be, but it was a hard month to work through, so I'm happy. And do you know what this means?
Sometime near the middle of this month I'll be putting the call out for beta readers. (You could be a beta reader. Y'know, if you wanted to.)
Scary, isn't that? I'm crossing my fingers that this draft doesn't suck, mainly because I'm proud of it.
But let's not forget the fact that April is Camp NaNoWriMo and I will, as usual, be doing the thing. Which also means that every Friday this month you're going to get a short report from me on how I'm doing and some snippets and words of encouragement/despair and stuff. I'm writing a sci-fi retelling of The Iliad by Homer. It's Red Rising meets Star Trek meets Ender's Game. Blood and guts and space battles are goin' down. It'll be a wild ride.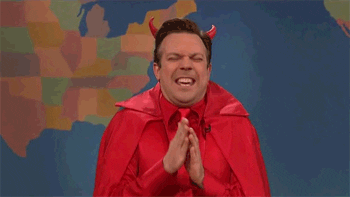 *Hamilton voice* ONE MORE THING.
As you know, WCAV has disappeared from Wattpad, before which it was not updated even when I promised to update it regularly. Sorry about that. It's a failure on my part. But it's because...WCAV has been edited. Updated. Changed drastically. And now there are aliens. So you'll just have to wait until after this month to hear more about that, but yes, you will be seeing more of these characters in the future. On Wattpad. In the form of a story.
FANDOMS
Let the rambling begin.
Hamilton continues. Not even sorry. My love for the ever-problematic Thomas Jefferson grows by the day. (Let's face it, it's really just Daveed Diggs.)
What a flawless jerk.
This has been a month full of Star Trek: TNG. Lots and lots and lots of Star Trek: TNG. I blogged about this already but I love this show so much more than I thought I would. Character development, actual ethical issues, things to think about, plenty of stuff to poke fun at...it's basically perfect and I'm way too attached to Data. And Riker's beard. And everything else.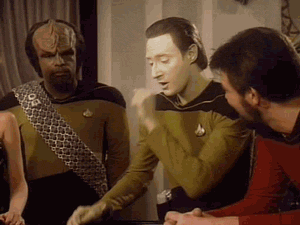 just look at these lil' nerds. all my favorites in one place.
I will always be a sucker for pretty British shows. Downton Abbey sucked me in and it was all downhill from there. The latest? Mr. Selfridge. It's such a guilty pleasure and I have no regrets. But the colors are beautiful, the drama is high, and it's such an interesting look at the dude who swaggered into London and started the first real department store, shocking everyone in the process. It's absolutely delicious and more intense than you might expect.
that's it. that's the show.
I guess you could say my fandom tastes have been...all over the place lately. Sue me.
ONE MORE THING!
It's my absolute delight to announce that you'll be able to read my blogging on another blog, on a regular basis! More personal blogging, at that. (not that we aren't friends around here.) I'm joining the team of the newly-started
The Desperation Project
, a blog for and by Christians struggling with mental illness/recovery. Mental illness isn't something Christians tend to deal with the way we should, and honestly, it's not a discussion that comes up a lot considering how devastating it can be. I'll be blogging there weekly now, and honestly if would be great if you guys could hop over there and show it some love.
*finishes awkwardly*
What have you been up to this month? How incoherent do I sound? (Also, if I was to start a Youtube channel over the summer, probably with the nerdy little bro, would you guys watch it???)