The Newbie's Guide To Comics
5:51 PM

Comic books are scary and confusing and weird. Also pretty awesome.

I'm a huge Marvel fan. Give me your Avengers and X-Men and let me flail over them all day long. But comic books have always been something far-off and scary to me. Because let's face it: comics are
weird
. Especially Marvel comics. Like, you guys, what even is happening in most of them. There's a swirl of plotlines and character arcs. It's alien and weird and gross. People die
but not really
all. the. time.
(Lookin' at you, Jean Grey.)
Once I plunged in, though, I found a whole world of stuff to be learned from comic books.
So here's some reasons why you should read them, even if you're not the hugest superhero geek.
They're wildly inventive.
Seriously, I've read plotlines like you wouldn't believe. Aliens and X-Men vs. Avengers and boarding schools and anything else. The people who write these storylines have an eye for the bizarre, unique, and creative, and you don't have to look past the cast of characters to see that. It really stretches the brain.
They're good stories.
A good comic manages to show a fully developed character in a handful of panels, with the advantage of having visuals. Color schemes can convey theme. They show you how to tell a story in a concise but still beautiful way that gets the point across and doesn't waste any space. Whole story arcs can be put together beautifully and excitingly and all that important stuff.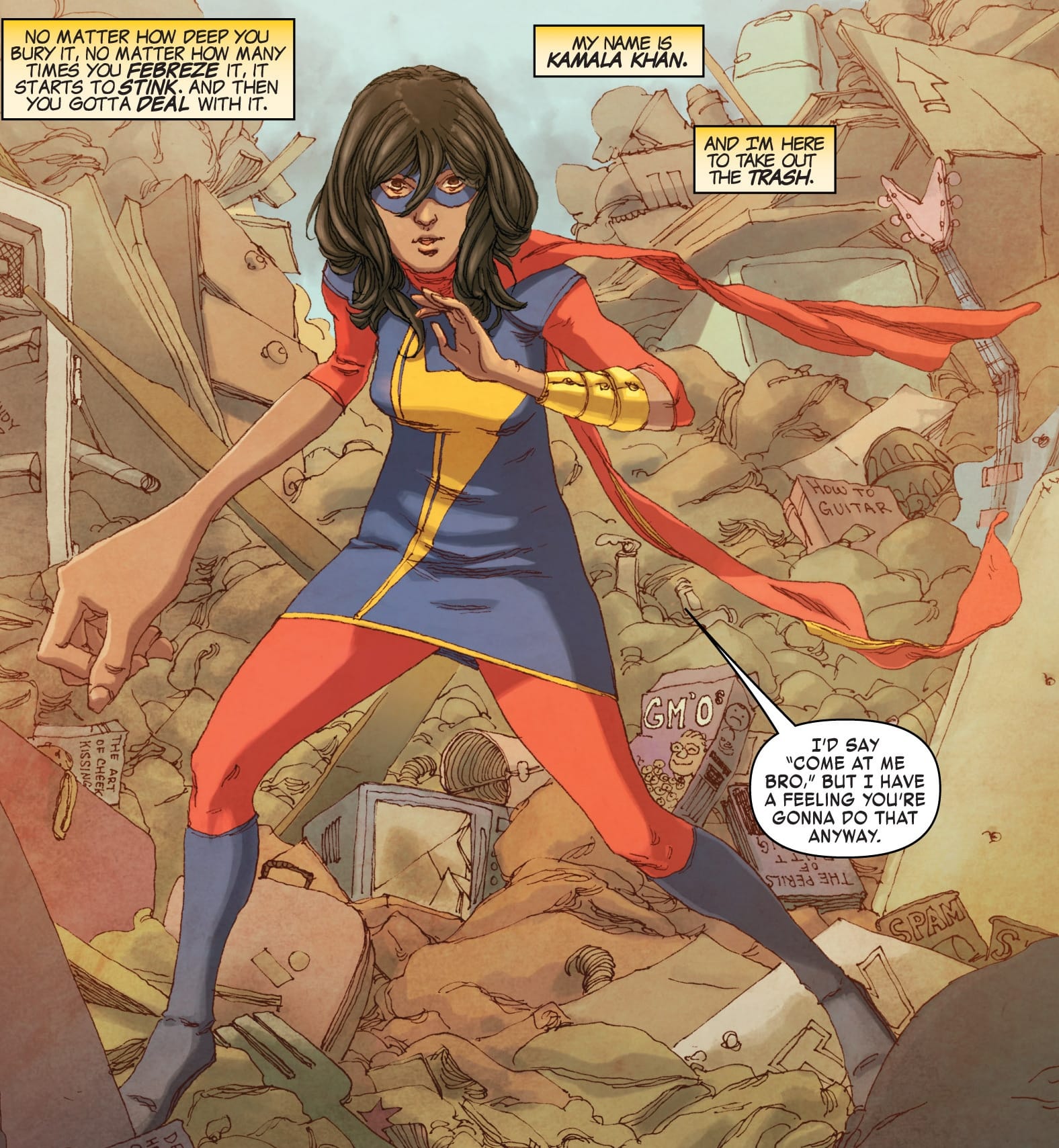 Ms. Marvel is hilariously fantastic.
They can get personal.
It's true that a lot of comics are very much explosions and constant action and shooting stuff up and using mutant powers and Wolverine being angsty, but a few comics are stunningly person. The new Hawkeye comics, for example, go deep into being an ordinary dude in a super world and PTSD/depression, as well as family. Ms. Marvel is about figuring out who you are. Uncanny X-Force talks about ethics and doing the right thing and what is the right thing, anyway, when all your options end up with someone dead? That's my favorite side of comics.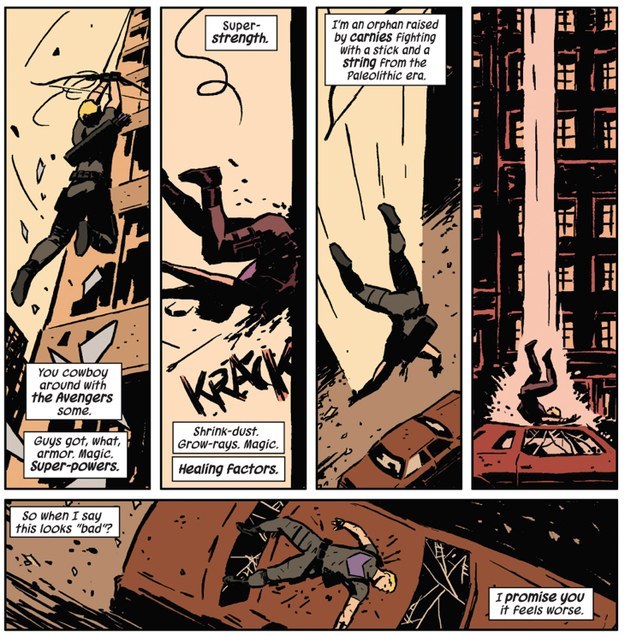 The Hawkeye comics are my faves for so many reasons.
They're flat-out funny.
Obviously this is the best reason. I don't think I need to tell you that when you put Deadpool, Cyclops, and Wolverine together on a team, things get heated. Not to mention Wolverine being the principal of a school. Or Hawkeye in general. Or everything about Daredevil. If you need a laugh...comics are here for you.
This is the glory that is Fantomex.
Also...
The art is beautiful. There are so many different styles and color schemes. Just consult any of the pictures I've shared today for proof.
In short: comics are wonderful. They get down to the dirty personal side of things sometimes. They're the most sarcastic things you've ever read. They're a completely different experience from regular books, but the visual aspect of storytelling is something I'd like to get into more. It makes me wish I could draw, sigh. Long story short, you should be reading them. Even if you aren't super into Marvel or think you don't know a lot, it's easier to jump in than you might think! Just pick a story arc, get Issue #1, and jump right in. But since some are easier than others...
If I've convinced you yet, here are some recommendations to start/keep on going with. (I will mention that I'm way more into X-Men than I am Avengers, so you'll find more of that.)
If you're 100% percent new to the comic scene...go with the new

Ms. Marvel

. (no prior context is needed and it's super light and funny.)
If you're into dark and morbid stuff with darkly sarcastic humor, and you also want to see Deadpool and Wolverine in a room together, go with

Uncanny X-Force

.
(it's worth nothing that this one is slightly more mature and darker in all ways, especially gore, though.)
If you want to laugh nonstop, can take a few cheesy issues, and want to see Wolverine try to handle impertinent kids, grab one of my favorites,

Wolverine and the X-Men

.
If you're ready for Hawkeye to be your new favorite hero, love gorgeous minimalist art, and want to cry your eyes out and give Clint a hug, or if you're anyone at all, please go read

Matt Fraction's Hawkeye

.
(
All New Hawkeye
is a very good run, too.)
If you like cool art and cool heroes and puns and a slighty confusing concept but a mind-twisting (literally sometimes) plot, read

Mark Waid's Daredevil

.
Go be awesome and read all the comics.
Or not. I can't tell you how to live your life.
Do you read comics? Do you have any favorites? Throw some recommendations at me, so I can read moreeee.