It was a quiet month around here because Camp NaNo happened and also I suck at multitasking. Sorry about that.

Basically: Yes, I am still alive. No, Camp did not kill me (but close). Yes, stuff happened in life. And yes, yes, yes, probably, I will be back this month. (Do I say that every month? I feel like I do. Oh well.) Pretty much all this comes down to the fact that:
I've been waiting to use this for AGES.
As you may have noticed basically nothing happened around here. Things did, however, happen on other blogs I posted for, as you're about to see.
Writing is tiring and I complained talked about that at length.
I blogged for The Desperation Project and I'm loving the way it's turning out so far. This is something I'm incredibly passionate about, you guys, and I've been blessed with the opportunity to write with the greatest group of Christian bloggers here. Even if you don't personally struggle with mental illness, do me a favor and check it out anyway? I truly believe we have some important things to say as we get this blog off the ground. (I run

the Twitter account

, so look into that too!)

Rachel @ Silver Mess interviewed me!

She's just the sweetest and her blog is the bomb. Do it for her, not for me.
So, yes, not much happening around here. Sorry 'bout that.
same, honestly.
SO MANY BOOKS. SO LITTLE TIME. I'm still 6 books behind but hey, there's not much I can do at this point. I was 100% frazzled this month but I still found time to read 19 books. Which is the same as last month. Go me.
Favorite Book: THE BELL JAR, YOU GUYS. THE BELL JAR. THE BELL JAR. I related harder than I thought I could. It's important. It screws with your head but in the best possible way. It's incredible, and also incredibly sad. Read it. You need to read it. Trust me. (Anna Dressed In Blood was also a heck of a ride.)
Least Favorite Book: There were lots I didn't enjoy, but I only got a few pages into If I Ever Get Out Of Here before I realized it and me just weren't going to get along. It's more of a personal taste thing than anything else, I do believe.
Comics: Really just Hawkeye and Daredevil this month, actually. But oh, was it worth it. I loved the art. I laughed the whole way through. Kate Bishop, Clint, and Deadpool is the deadliest trio I can think of and it was a wild, candy-filled sassy ride indeed.
Nonfiction/Poetry: I read poetry this month! Because, y'know, I'm educating myself now. Charles Bukowski's angst amused me and I like the way he uses words. I read a collection of modern poets and that was good, too. I also read a Winston Churchill biography written by the man himself and decided that he's one of my favorite historical figures ever now. What a snarky little British hero.
Lots of "meh" books happened. Oh well.
me, during most of these books.
Boy, do I have a post coming on Tuesday.
Camp NaNoWriMo happened, as many of you know. As many of you also know I decided to write a hard sci-fi retelling of Homer's The Iliad for my project. My goal was 80k.
I hit that goal. I also finished the first draft.
Basically, this thing I wrote is something I'm insanely proud of and want to start to edit already so I can make it less sucky. It's bloody and angsty and there are spaceships. My Achilles gave me so many feelings I didn't know what to do with them. I killed off three separate characters in their own POVs. I got to retell one of my favorite stories ever, and do so in one of my favorite genres ever. I was a happy cupcake this month. You'll get lots of collages and snippets and so on on Tuesday, so I'll leave the main flailing until then. Suffice it to say I made myself cry several times.
NOW. BACK TO PARIAH.
I did not put out the call for Pariah betas this month like I said because it is not, in fact, ready. So I'm cracking down hard on it this month and polishing up this draft. Nothing stands in my way.
Seriously, so many fandoms.
Am I still obsessed with Hamilton? Yes. Yes I am. That's never going to change.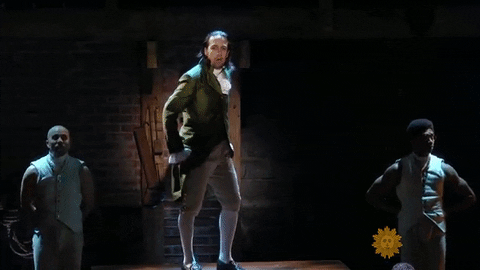 deal with it.
It's been a very Star Trek-y month for me. I re-watched the reboot movies (THERE'S A NEW ONE THIS SUMMER I CANNOT GOODBYE) and flailed over them. I'm making my way through TNG and realizing how much I love it and all the characters. I keep thinking about Star Trek, Star Trek, Star Trek. I'm sure you'll see more rambles about it soon, but basically it's everything I love about stories and sci-fi all in one place. Yes please.
I'm going to a Twenty One Pilots concert on May 30th. That time is rapidly approaching. I'm going to c r y. It's gonna happen. You're going to get a long ranty post about it, assuming I don't die of excitement sometime this month.
Also, Star Wars??? ROGUE ONE??? GIVE IT TO ME IMMEDIATELY I AM GOING TO LOSE MY MIND OVER ALL THE SCI-FI GOING DOWN HERE.
goodbye frens i am gone
Marvel is obviously intent on crushing my soul into tiny pieces. The Doctor Strange trailer is here and it looks fantastic, let's be real, even though I know nothing about Doctor Strange. (It does have Cumberbatch in it, though, so I don't know what else I was expecting.) CIVIL WAR IS COMING SOON. THIS IS NOT A DRILL. BYEEEEE.
I think the point here is that everything comes back to my looking forward to Civil War and also knowing there's no way I'll be able to handle it. I'm going to write a review once I see it -- a non-spoilery review, don't worry. But it will be there.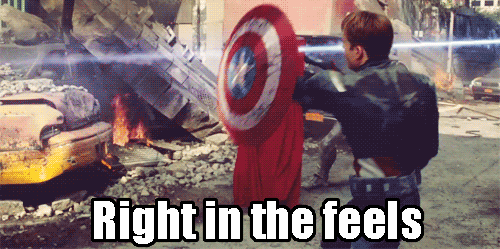 yep, bye, I'm gone.
I finished Downton Abbey. I am a wreck. Everything is happy and also not okay.
Bones is traumatizing me. I can't deal with the feels and the serial killers, honestly. It just might kill me one day.
Oh, look, it's me. Accepting my death by fandom/Bones.
How has your month been, peeps? Can I call you peeps? I'm gonna call you peeps. Deal with it.