Avocados At Law (Adventures With Writing and Daredevil)
4:57 PM

Prepare for all the screaming and flailing.


This is kind of a monthly thing (hopefully it will be) where I talk briefly about what's inspiring me in my writing lately. This month, that's Daredevil.
I may or may not have abused the Netflix one-month-free-trial feature in order to finally binge-watch this. I'm almost done with season 1 already and HELP ME I AM FEELING ALL THE FEELS. I've been watching with the ever-glorious
Anna
, so there's been lots of crying and shrieking and flailing for me the past few days. But oh my gosh, you guys, this show. I haven't been watching for very long but I'm already incredibly inspired.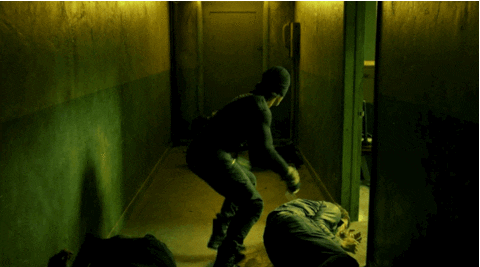 daredevil kicking me in the feels like
This show is important. It's gritty and violent and dark, yes. It's morbid. Lots of blood goes down. People fall off buildings. It's crazy. It's also feelsy, and full of heart, and has some of the best friendships I've ever seen. It's inspired me in several ways:
The friendships. But can we just talk about Matt and Foggy, you guys. Matt and Foggy are adorable. They trust each other. They care about each other. Foggy helps Matt with things his blindness (oh, yeah, he's blind) might make difficult for him, but he doesn't treat him like he's made of glass. Matt respects Foggy and his feelings. They apologize when they hurt each other. Foggy and Karen support each other emotionally and look out for the other person's good above their own. Daredevil is full of healthy, deep, respectful friendships, and it's inspired me to take a look at some of the friendships in my own writing and make them realistic.
it's a very serious show, i promise.
The violence.
Okay okay okay, don't get me wrong! It's a dark and violent show.
But that's not the point.
It's in-your-face. You hear every punch. But it's not meant to be excessive. It's meant to horrify you. It's raw, it's there, it conveys emotions. There's emotional violence, too, in a way, and they don't pull punches (literally and mentally). You feel all the feels and it's like you're right there.
Disability and mental illness. Matt Murdock is blind. Karen undoubtedly struggles with some kind of PTSD after everything the poor child has been through. It's all respected. It's a thing, and it's shown in all its realism and hard times, but the people around them respect this. Foggy and Karen are aware of Matt's blindness, remind others of that, and accommodate him accordingly. Matt doesn't angst about being blind; he regrets and misses things, obviously, but he's learned to live with things and make do. That's important and makes me want to see if I'm doing that, too.
The villains. OH MY GOSH THE VILLAINS. Daredevil villains are human. The Russian mob dudes have family members they care about. Fisk (ugh) cares deeply about his girlfriend, his city, his best friend. He has genuine relationships with people around him, even if he's kind of a jerkface 99% of the time. The villains are real actual people with real motivations and feelings. I wish my villains could be that way.
What. A. Creep.
The combination of darkness and humor.
Daredevil is seriously depressing. Everyone cries. The fight scenes are real. The show is deep and heavy and will slay you with feels, I promise. But when it comes down to it...it's hilarious too. The sass is real, you guys, oh my gosh. That balance keeps it from hurting too much always, and it doesn't take itself too lightly, either.
this is a legit line from a real show.
I can't recommend Daredevil to everyone -- it's hard to watch sometimes. But it's been making me think hard about how I write and the kinds of characters I like, as well as whether or not I'm writing with intention and writing characters with real personalities. So that's awesome.
Have you seen Daredevil? What's been inspiring you this month?