I'm Tired of Cardboard Cutouts
12:49 PM

Hello, random mini-rant.

really i was just too lazy to make a graphic today.
Basically today I am going to whine about a thing I always whine about, because I've been reading a
lot
of books lately -- let's be real, I'm always reading a lot of books -- and I have many frustrations. Frustrations with YA, mostly.
look out for the upcoming YA bashing, oh yeah.
I'm tired of cardboard cutouts.
Tell me: does this sound familiar? Girl moves to new town/school. Girl is an outcast, possibly with some mental illness issues. Girl meets broken sarcastic geeky-but-still-cool boy. They fall in love. They go to parties. They get drunk a lot and make stupid reckless teen decisions. One of them probably dies at the end.
Or: Peasant boy in fake-medieval-England land has always been ordinary. Until he finds out that he's not -- he's actually the lost prince, or the chosen one, or whatever, and he must go on a quest to defend the land. He acquires excellent fighting skills on the way.
Or: Girl has always lived in this dystopian sci-fi with Capitalized Nouns everywhere. Girl is an outcast who thinks the society is rubbish despite the fact that she's never known anything else and has no reason to have questions. Enter dark brooding boy and also The Rebels. Girl leads the rebellion. Etc.
It kinda feels like I've been reading the same three or four things lately. Don't get me wrong, I love YA. That's mostly what I read. And there's some genuinely good, unique stuff out there that's blowing my mind. But most of it leaves me feeling...a little bit like someone just put their own character names into the basic plot template and ran away with it.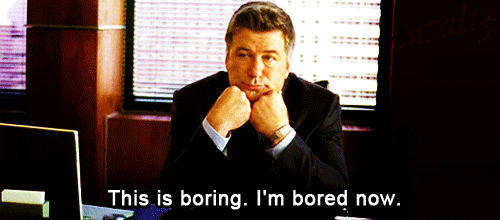 sorry, but it's true.
Maybe I'm just really really picky and critical. Lots of people like a lot of these books that I found wildly cliche. So maybe it's just me. I really don't know.
But here's the thing: I really feel like we can do better than that.
We've been given a world full of unique stories and unique people. More than that, we've been given an endless imagination with which to come up with even more unique worlds and people. So why does it feel like we're writing things over and over and over?
(Now, I recognize that there are trends that sell well -- and there's nothing wrong with catering to those trends! If you see that dystopia is in and you decide to write a dystopia, that's not bad. But there's a way to take those genre trends and make your own fresh story out of it, I'm sure. I've seen it lots of times.)
I don't necessarily have an answer to this, or a suggestion to fix it, writer though I am. It's just something that's been bothering me lately. I don't want another contemporary that reads exactly like John Green. I don't want another Hunger Games. I don't want the dark and brooding mysterious love interest; I don't want the "ordinary girl" with the extraordinarily quirky interests that no one else has. (Again, I don't need more John Green.) Authors are people with their own experiences and ideas and personalities, and I want to see that come through! I'm tired of reading Divergent over and over again. Maybe that's just me. But that's how it is. Why aren't we thinking outside the box more?
I really don't know, but it's starting to get on my nerves. And I'm DNF-ing more and more books because of it. And I just...don't know.
Rant over.
mic drop!
Have you been seeing a lot of cliche/cardboard-cutout YA recently? Or not? What do you think about this whole thing?