Some Thoughts On Writing Honestly
7:00 AM

Something I've talked about before, but hey, you wanted to hear what I learned at the writing conference.

So there was this writing conference, as you all know by now. And at said conference we were gifted with the presence of authors like Ally Condie, Jennifer Nielson, Jacqueline West, Jonathan Friesen, and others. They all had very different personalities and very different things to say, but when it came down to it they would all give you the same advice:
write honestly and write personally.
Cue me the heartless emotionless ESTP wincing in the background.
actual footage of me
Now, I kind of feel like this is at the core of any good piece of writing. It's the thing we all have to learn. How do we take our experiences and our personality and our pain and the things we observe around us and turn that into a unique piece of art? How do we let that flow into our writing? How do we fill our writing with emotional and allllllll the feels and make people care?
This is going to sound repetitive but again, I think lately I'm learning that it's all in writing honestly. Writing about real stuff the way it really is.
That's the core of what we love about stories. All the best stories show us ourselves and the rest of the world, the way it really is. That's what disturbs or fascinates us. 1984 carries a punch and scares you to death because it's about where we're headed as a society, and we see society in it. You probably love your favorite character because, to some extent, they've got pieces of you, and you see yourself in their struggles. Writers are able to show us what it means to be human and what it means to be ourselves, and they probably don't do it by sitting down and thinking up grand metaphors for the entire human condition.
They probably just look at what they see and the people around them, and write about that.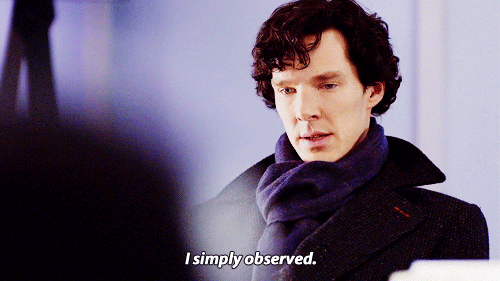 we are the annoying bratty sherlock holmes-es among humans.
The story I'm writing for Camp NaNo this month (actually a second draft but whatever) is sci-fi/dystopia, but it's largely about mental illness.
in what i'm hoping is a subtle way but whatever, i guess i can hope.
I wouldn't get very far if I tried to sit down and think about or even research how mental illness affects all teens, or if I looked at the specifics, or even if I talked to dozens upon dozens of teens affected by it. I could do it, I'm sure, but would it have the same punch? I'm not very far in but I've already figured out that when I take the time to relate it to my own experiences, when I write about the feelings I know and how they actually truly are, not how I want them to be for drama or plot or whatever, things start to flow.
It hurts. I don't write about my honest emotions very well naturally. But once I start doing it, things work. Because they're real. And I know they're real.
I just finished reading a collection of short stories by F. Scott Fitzgerald (his writing is life okay) and for once I actually read the introduction and editor's notes, because Fitzgerald was fascinating. One thing that caught my eye was several mentions of how again and again, Fitzgerald would talk about his commitment to writing about the things he saw and experienced and writing about them the way they happened. Sometimes he talked about that as being a burden, or inconvenient, or emotionally heavy, because it is. But Fitzgerald looked at himself and the broken society around him and he wrote people exactly the way he saw them, recording everything, so to speak. And that's why his stories cut so deep emotionally, I think.
I'm going in circles now, but all of this to say -- as writers, we almost have a duty to record the world as we see it. To talk about the pain, and the gritty stuff, and the no-fun non-dramatic mostly just hurtful things that go on in us and the people around us. Who else is going to do it? We're the people who are able to take these feelings that are kind of universally human sometimes and translate them into words that make sense. People need to read that. People need to see that kind of pain and know that they're not alone. That's what writing is all about. Writing about what's real. Writing about emotions and human things and what's around us.
And when we make that more of a focus than trying to be dramatic, than trying to force a plot to be cool, all of the rest will follow.