Staying Creative When Life Gets Crazy
3:47 PM
In other words: how to mostly keep your sanity and make things a little bit easier when you feel swamped.
School. (So much school.) Social stuff. (Ew.) Twitter. (Necessary.) Work. (Time-consuming, tiring, etc.) It feels like everything got crazy earlier this year and hasn't slowed down soon. I'm caught in a whirlpool of life and obligations and everything else, and suddenly, there's a lot less time -- and energy for that matter -- for the creative life and the things I really want to do. I'm exhausted, so writing falls to the wayside. I want to work on that podcast I have in mind (more on that later) but when I sit down, I have people to text back and shows that aren't going to watch themselves. Even journaling doesn't happen as often as it used to since I had everything else to do. When I do get a moment to myself, I'm not exactly in the mood to be creative or use any more mental/emotional/physical energy.
Life is busy. Burnout happens.
This is kind of inevitable, as much as I hate it.
Still, if the creative life is important to you -- and making time for all the creative things I want to do is very important to me -- there are definitely ways to make juggling everything a little easier and keep your creative muscles working on a regular basis. I'm not an expert by any means, but I've figured out some tips and tricks lately.
If you're serious about this stuff and you really want to pursue it -- whether it's writing, poetry, music, painting, etc., it's probably a good idea to make that one of your priorities. Sometimes it's not a matter of not having a time, it's a matter of managing your time better. Let's be real here, it's not that you literally "don't have time" to do the things. It's that time is being used up in the wrong places. i totally don't spend too much time on Netflix, nope. And sometimes, scheduling time to do those creative things means you'll take it more seriously and you've devoted a solid hour to doing that thing, and that thing only.
It's not fun. I don't want to spend an hour a day writing and doing nothing else. I don't do it every day, though I'm getting better. But when I make that hour "writing time", I don't have any excuses or ways to get out of it. It's part of my schedule, and I'm more likely to get it done.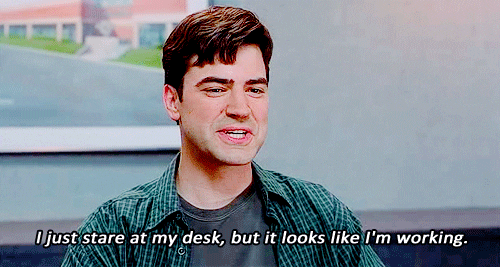 Yeah, yeah, I know.
I don't want to do it either.
As a lazy homeschooler, especially, it's tempting to sleep in until 10 or 11 or so to get some energy. It's even more tempting to sleep in on the weekends, when I don't have as much to do and it's technically a "break". But if you really could use an extra hour or two in your life, maybe it'll benefit you like it benefits me to wake up closer to 7 or 8. You can use that extra time to wake up more, or get started on writing, or whatever it is you need to do, depending on how well you can function in the morning. It's hard at first, but once you get into the swing of it, you'll feel a lot better.
Of course, this is definitely helped by getting to sleep at a decent time and keeping your sleep cycle regular. That sounds pointless, but seriously, you'll feel so much better. You'll have more time to do stuff, you'll feel more refreshed, and your creative brain will be more awake and alert when you need it. Win-win-win.
Sometimes, you don't have a whole hour for sitting down and writing or being artsy. Some days really are just that crazy, and you feel like you're going to go out of your mind doing boring pointless things. That, my friend, is where having a phone/laptop/tablet and a good pair of earbuds/headphones comes in handy.
There are like a billion podcasts out there, in every topic you can imagine. (my favorites are story-ish ones: Welcome to Night Vale, Sayer, Within the Wires, and so on.) Whatever you listen to, they can keep your creative juices flowing, make you think, make you laugh, keep you entertained, and give you inspiration, and you can do them while doing other stuff. If you're like me and it helps you to do homework or basic chores while listening to something (and you can focus on homework while listening at the same time) this is a great option. Audiobooks have the same purpose, of course.
Music. We all love music. The right music can make anything more bearable, and turn the most boring and dull of days into something inspiring happening in your ears. Listen to stuff that pumps you up and reminds you of your creative projects, and you're all set. (this is good for doing while doing school and stuff, since podcasts involve more listening and focus than a song you already know and love.)
totally focusing. totally not jamming out.
Pretty self-explanatory and yeah, yeah, I know, you don't want to do this one, either. Vegging out and marathoning
The Office
(guess what I've been watching lately) is easier and more fun than getting your art on. You would rather be doing that.
Sometimes, you've gotta prioritize and let your brain work. There's a time and a place for being "inspired" by shows.
this is a fancy word for procrastinating 90% of the time.
unfortunately, there's a time and a place.
Again, it all comes down to procrastination. It's tough when we just want a break, but if you want to make creativity happen, you have to accept that it's not going to be perfect. Some days you're not going to wake up at six in the morning and settle down on the front porch with Starbucks and your laptop and classical music and write 1k before anyone else is awake or ready to function. You're not going to have long creativity-fueled nights. Sometimes, you have to do what you can what you can -- a few paragraphs between classes, ten minutes of practice at lunch, working while you eat, and so on. Take the opportunities you have and make them happen, instead of waiting for the right moment.
*muffled screaming*
Perspective is crucial. Sure, Youtube and a snack sounds great right now, way better than practicing. Sure, stabbing yourself in the eye sounds a lot better than writing in the moment. But surely you've got goals bigger than that -- finish a drawing, finish a novel, write a comic, put together a song, become an author/songwriter/artist/etc. and you don't get anywhere without work. You have to make sacrifices and put in the hard labor sometimes, and you have to show up, even when you don't want to. Perserverence is key, and keeping at it is the most important.
So when you're tempted, remember your goals. Write them on a piece of paper and tape them up on the wall. Set an alarm on your phone. Write a note and tape it on your laptop to remind you every time you reach for Pinterest: this is what you're trying to do, and this is what you want to accomplish, and you won't let petty distractions get in the way.
Creativity isn't always glamorous, and it's hard to manage in a busy environment. But it
can
be done.
What do you do to stay creative?