The Sun Will Rise
7:00 AM
Because TOP lyrics make the best titles, after all.
I've been thinking a lot about the person I was this time last year.
(I wrote a post about more of that specifically on Youer Than You a few weeks ago.)
2015 Aimee was, for lack of a better term, a complete wreck. She wouldn't have been honest about that. She certainly wouldn't have talked about it. Last year was a struggle for so many different reasons.
Which makes it even more amazing that 2016 Aimee feels like a living, breathing, happy person.
Happy is the right word for it. My circumstances haven't changed -- I live in the same place, in the same house, with the same people, mostly the same friends, the same interests and hobbies. I'm still homeschooled. I still have anxiety. If anything, I've been exposed to more changes the past few months, and I should be more stressed. But I feel happier, healthier, lighter, and more in control of my life than I ever have before.
I didn't think that was ever going to happen.
2015 Aimee lived in the moment in the worst possible way. She spent whole days/weeks drowning in anxiety and that dark cloud in her head that weighed her down. Moving and functioning felt like sludging through mud most days. It was easier to binge-watch shows and lie in bed and ignore responsibilities all day than to actually get things done and keep them from piling up. Friendship was difficult to keep up. Writing was an obsession instead of a job I love; it kept me feeling productive and it served as a dumping ground for all those feelings that had to leave my brain somehow. Going anywhere was a stressful event that left me exhausted. I don't have a particularly difficult life, and I certainly suffer most of all from my own thoughts, but when I say I was miserable last year, I think that's pretty accurate, even if the only person at fault was me.
It's easy to get lost in the dark, to get turned around somewhere and run into a wall. And when we run into a wall in the dark, it's easier to sit down and try to sleep than get up and find a way out. You could run into something, or fall over an edge, after all. You could get lost even further and be exhausted. You might not find a wall to lean against again. The risks make it much easier to stay where you are.
In the words of a particularly fabulous youth pastor this past Sunday, it's okay to not be okay. it's just not okay to stay there.
I wanted to write this because we all find ourselves in the dark sometimes, and sometimes, we're there without a flashlight. I've been there. I was there last year. And I feel like I know pretty well that when you're in the dark, you can't really see the exit.
That doesn't mean there isn't one.
More than anything I want to tell Aimee of last year that it's going to be okay. That when you get up, when you look, when you stay on your feet when everything in you wants to give up, you can find your way out of the black. There's always an exit. It takes effort, and sometimes you trip and want to stay down, but in the getting up again and again and again and again, you get one step closer at a time. Sometimes you have to crawl. Sometimes you have to realize that you're not alone in the dark, that there are people around you to hold you up.
But you are not alone, and no one is ever too lost for a way out.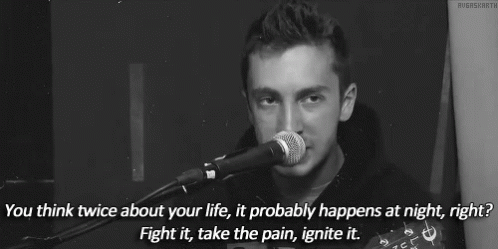 oh look my favorite song
Right here and right now I'm okay. I still have problems. Right now I feel stressed and overwhelmed and I want to sleep forever instead of doing anything. The other day I had an anxiety attack that felt crippling, that felt like I was going back to my old ways. It's been a bumpy two weeks or so.
But for the first time ever, I feel like I can handle it. I can breathe. I laugh. I go outside, I hang out with friends, I read books again, writing makes me feel happy even when it frustrates me. One day, maybe I'll slip back into the dark and have to find my way out again. It probably will happen. I don't know right now -- I have to take it one step at a time. But today, it feels like for the first time in a long time I'm doing the impossible and chilling out in the light.
Get up.
Reach out.
Find the people fumbling around with you in this crazy mess of a stressful world and lend a hand. (sometimes you can't do it alone.)
Take a deep breath.
It's okay if you're lost right now, you know.
That doesn't mean you're lost forever.