Age of Ultron Review/Flailing Session
1:02 PM

Hey, guys! I put together a survey to figure out stuff for the summer, and it would be pretty awesome if you could fill that out. It's right here and I swear it's short. I'll give you chocolate if you finish. And cake. And...well, you'll see if you fill it out.

Fair warning: I'm avoiding important spoilers because I'm a nice person, but I'll be discussing the plot to some extent, obviously. I couldn't get spoiler tags to work so I left out major things entirely. You're welcome.



A brief summary:
When Tony Stark (Robert Downey Jr.) jump-starts a dormant peacekeeping program, things go terribly awry, forcing him, Thor (Chris Hemsworth), the Incredible Hulk (Mark Ruffalo) and the rest of the Avengers to reassemble. As the fate of Earth hangs in the balance, the team is put to the ultimate test as they battle Ultron, a technological terror hell-bent on human extinction. Along the way, they encounter two mysterious and powerful newcomers, Pietro and Wanda Maximoff.
Avengers: Age of Ultron.
This is a short review because it only recently came out and I'm not up to discussing it in detail, but I just had to talk about it. I've been waiting for this movie for ages, being a huge Marvel fan (didn't know that already?) and I was worried it would disappoint. After all, it's huge. It's epic. It's intense. There's a lot of things that could go wrong.
To be fair, I think some did, but it was pretty dang amazing.
Basically me on the way to the theater.
Very quickly into the movie, I realized this was going to be awesome, not to mention everything I love about Marvel. Superheroes with some of the best one-liners ever? Steve Rogers? Friendship? FEELINGS? It was all of those things wrapped into one big ball of explosive epicness.
Look at me, being all professional and review-y.
(Like I said, there may be minor spoilers.)
Things I loved with all my heart and soul:
The humor. Sure, this movie is dark. And intense. And depressing. And rips your heart open with a dull fork because FEELS. But, like all the Marvel movies, Age of Ultron does not disappoint in the witty-remarks field. There's one running joke especially that had me chuckling the whole movie. The Avengers are hilarious. Not gonna lie.
Hawkeye. Okay, guys. We need to talk about this. Hawkeye/Clint Barton has been one of my favorite Avengers for a long time, and this only confirmed it. He's a normal guy in the world of the Avengers, trying to fight off an army of robots with a bow and arrow. He's sarcastic. He's funny. He's pretty hardcore. And Age of Ultron showed this off perfectly, which makes me happy. New favorite Avenger, right here.
Just look at the fabulous.
Ultron.
Now, I'm not the hugest fan of Loki. Don't get me wrong, I liked him okay as a villain, but the fandom kind of ruined him for me. Ultron, however, is one of my new favorite baddies ever. He's disturbing as heck. He's
terrifying
. He's a real problem.
He's also really, really fun to watch.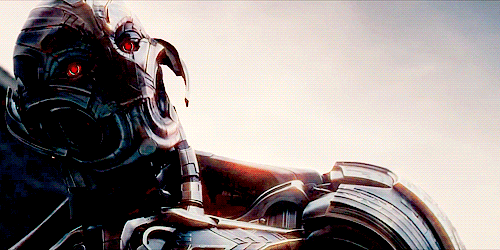 Quicksilver/Pietro Maximoff. GUYS. I was curious about the addition of Quicksilver and Scarlet Witch in this movie, and not only was I not disappointed at all, I was also thrilled. They have an adorable sibling relationship, and Pietro especially totally won my heart. SEND HELP.
THE SASS. *clutches heart*
A lot of things.
The whole movie left me flailing. I CANNOT EVEN. It was glorious. However...
Things I'm not so obsessed with:
Black Widow. What was up with her? She felt a little...off the whole movie, much less like the amazing Black Widow we all had so much respect for in The Winter Soldier. I mean, she had some hardcore scenes here, but it felt like she was a little less awesome and a little more out-of-character than usual. *shrugs*

Also (minor spoiler) she kind of got shoved into a ship that I'm not really a huge fan of yet, and it felt very random and didn't necessarily need to be there. So we'll see where that goes, but it was weird.
Although, we did get some backstory stuff, and GAH. My heart. So good. *flails*
She was still awesome, though.
Some of the pacing felt off.
Maybe that's just me, but it felt a little weird. Too fast in some places and too slow in others. Again, maybe it was just me, but it was slightly weird and off-putting the whole movie. It's not hugely important, though, if you get wrapped up in the characters like I did.
THE THING THAT HAPPENED. THE FEELINGS. You know what I'm talking about if you've seen the movie. Feel my pain.
Overall, Age of Ultron was an incredible movie.
Sure, it has its iffy bits, but I was awed the whole way through. It's beautifully done and has my new favorite villain ever. SO MANY FEELINGS.
What about you? Have you seen Age of Ultron? Do you want to? Who's your favorite Avenger? Comment away. (And don't forget to keep spoilers out of the comments and fill out that survey for me, pretty please.)