NaNoWriMo happened this month and I was weirdly unprepared for juggling that and life at the same time, so it's been a quiet November on the blog.
There's always a good reason to use this one.
And...that's it for this month. Three blog posts. Am I disappointed in myself? Kind of. But I'm definitely picking it up this month now that NaNo is no longer a thing. Ignore the fact that I make this promise every month.
This is actually a thing that happened this month!
As most of you probably know I wrote 50k worth of We Caught A Vampire, my paranormal road trip novel with vampires and Fall Out Boy jokes and junk food and ghosts in toasters and all that good stuff. I have a post about this going up tomorrow, but the novel itself was a blast to write and, if I say so myself, a little hilarious. It was hard to write, but I'm proud of it.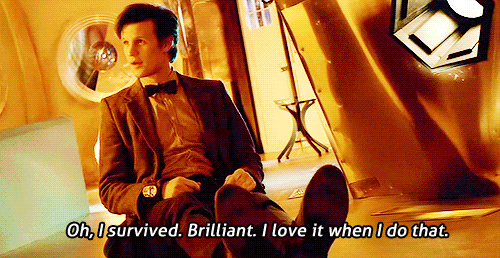 ALSO. I'm thinking of putting WCAV on Wattpad, a chapter at a time, once I can get around to editing and fixing it up (probably this January). How many of you lovely people would be interested in seeing that/reading it?
15 books this month! One more than last month, and considering the fact that I had a ton of homework and also NaNo I think I did pretty okay.

Favorite Book
Vicious
or
Gone With the Wind
or
Winter
because they were all feelsy and glorious.
Vicious
was pulled straight out of my writerly and superhero-loving brain.
Gone With the Wind
is an amazingly written classic I couldn't stop reading.
Winter
completed the Lunar Chronicles series, which I'll always love, and made me 100% happy. So many good books this month!
Least Favorite Book
Obsidian Mirror
.
I was wildly confused and wasn't even able to finish it, sadly.
There were a TON of good books to read this month! I'm very pleased.
I bought one book this month: Winter because it was absolutely necessary to own it as soon as I could.
Neal Shusterman's Challenger Deep won the National Book Award! Go read this book immediately. It 100% deserves to be recognized for its importance.
Stress continues to be a thing, but I think I'm doing a pretty good job surviving.
I'm almost -- almost -- finished with Bones. Like, the whole thing. I'm going to weep forever now.
I SAW MOCKINGJAY PT. 2. Gross sobbing was involved. I absolutely loved it, because I'm one of those weird people who enjoyed Mockingjay the book a lot.
Actually me, in the theater, freaking out over everything.
I started playing the drums??? I feel new and vaguely dumb but I think I'm getting the hang of an instrument for once in my life and it makes me very happy.
All in all, it was a very interesting November, and not much happened. I'll try to keep up with blogging this December, but you know how it goes -- I'm the worst at this whole thing. *nervous laughter*
How was your November? Did you do NaNo? Did you survive?