Self-Care For People Who Need to Survive the Winter (Like Me)
7:00 AM

Because let's face it, winter sucks sometimes.

Here's the deal: winter can be rough. There's cold weather. Being stuck inside. School. School. School. A ton of events going on. Even if you like the winter (you crazy people) all those grey clouds and the pressure of all the stuff we have to get done can be overwhelming. It's easy to be stressed and upset and sad and a billion other things at once. Even if you don't struggle with anxiety or depression or any sort of mental illness, it's important to take care of yourself, peeps. (even if you don't want to. Because trust me, I know that feel.)
Sameeee.
It's possible that I'm the only person who needs this, but just in case...I thought I'd throw out some easy self-care strategies that have been helpful in the past. Some of them might work for you. That's cool. Some of them might not. Also cool. (I tried to avoid more cutesy stuff, because you can find a lot of that and I've found that most of the time the most effective stuff is more practical?)
Turn off Netflix.
Yeah, yeah, I know. I'm one to talk. So you know I speak from experience when I say that it's super easy to get sucked into the never-ending whirlpool of like a season of
Doctor Who
in one afternoon.
Don't do the thing.
As fun as it seems you'll turn it off eventually and realize all the things you haven't done and let's face it, it's not that good for you anyway. (sorry.) Turn it off and go do something you need to do. Go outside. Hug someone.
It'll all be okay, I promise.
Go drink a glass of water.
A big full glass. Have you ever been dehydrated? Do you know how much it absolutely sucks and probably ruins your day? Anyway, there's a lot of sciency stuff out there that talks about how drinking water is good for you. It's easy to forget to drink enough water during the day; if you're reading this, why don't you go get some right now? I'll wait.
(I like to get a water bottle and fill it up during the day, and carry it around with me just so I'm always reminded.)
on that note, making sure you've eaten recently is good too.
Try some yoga?
I am the least flexible person you'll probably ever meet. But apparently exercise is good for you? It gets you moving and really can help improve your mind. If you don't want to run, or go lift weights, or do something miserable like that, yoga is hugely helpful. (And you can do it almost anywhere.) I like
this routine
and
this one
, but I guess you could just search it on Pinterest and find something you really like.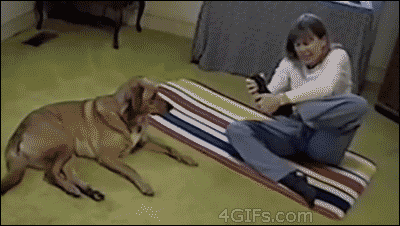 Even if it feels like this most of the time. Because it totally does.
Go make someone else happy.
Doesn't seem like it would work when you're feeling miserable yourself, but it
does.
Message a friend and tell them how much you appreciate them. Give your friend/family member/pet a hug. Do something nice for a stranger. Tweet one of your good internet friends and compliment them on something. Comment on someone's blog post. I don't know how this works but it kind of lifts the mood.
Clean your room. You're starting to regret reading this now, aren't you? But the bonus here is that you feel productive and probably a little cleaner, too.
Leave the house. Sorry, but it's true. (I like to go to the library, though, which is basically the same thing as home.)
So, there you have it. Deep breaths, peeps.