Boldly Going (and other adventures with writing and star trek)
7:00 AM

Just in case I haven't flaunted my ultimate-sci-fi-geek status enough lately.

Recently, thanks to the little bro, I've been watching a lot of Star Trek: The Next Generation. Honestly? I didn't expect to love it as much as I do, or get as much out of it as I have. Is it a bit cheesy? Of course. Is it perfect? No. Is it always thrilling? Depends on how you look at it. But beyond just enjoying it immensely, I've found myself thinking about some deeper stuff prompted by some of the episodes.
In fact, they've made me think a lot about my own writing.
also Data is the most flawless person android ever and I cannot get over him.
(Basically these will just be random musings about things I've learned from this show and want to be more conscious of in my own writing.)
Writing diversely. Ooh, look, a scarier topic, one that I haven't really blogged about before! So here goes.
I would venture to say that Star Trek: TNG is impressively diverse in the best way. People of all different personalities, races, and backgrounds hold important positions in the running of the ship. There are plenty of women in positions of power who are vital to the crew -- they have different personalities and different skills, but their presence isn't treated like a big deal and they're all strong in their own ways without the fact that they're strong being shoved in our faces. People aren't there to be special. They're just there. That makes me think about how I write diversely, and how I want to write diversely. Which is basically: subtly, and without making a big fuss over it. I very much appreciate and want to copy the whole host of people just being people, being diverse just by being themselves because they all have something different to offer.
What is exciting, anyway? By our standards now, you could call a lot of the episodes "boring", especially for a sci-fi show. Most of them don't involve relationship angst, or people shooting each other, or epic near-death escapes (well, that last one is debatable). In fact, a lot of them focus on ethical issues, issues that test the crew and the individual characters. They're conflicts that make you think. How do you approach interactions with other cultures and their customs when they conflict with your own? How do you stick to your customs and beliefs while still respecting the strange alien world you're on? When is it okay to kill/is it ever okay? How do you treat people who might not deserve to be treated well?
Now, I love me a good sci-fi battle. Excitement is good too. Nonstop action is good, too. But I think it's important to not forget the deeper conflicts, the ones that make people think. That's what I want to do it in the end, underneath all that action and shooting people type stuff.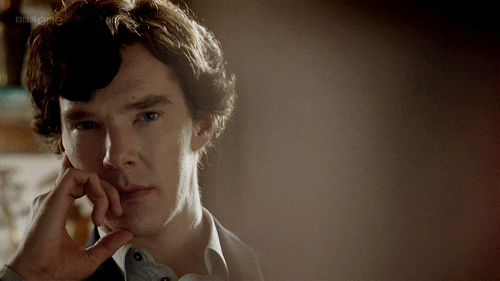 THINK.
The potential in sci-fi.
Oh my gosh, you guys, you can do so much with sci-fi. I think I forget that sometimes. Star Trek is one of those things that makes me remember the exploration, the alien worlds, the traveling through space, the starship crew, the kooky gadgets, the just-plain-
odd
stuff you can encounter at the very edge of space/time/whatever. This show likes to explore that.
I'd
like to explore that. It makes me want to write things with more potential than just an alien invasion. What if there were alien cultures to explore? What would that look like?
*desperately fends off the plot bunnies*
Essentially, Star Trek makes me want to boldy go (see what I did there?) and explore new writing things, new ideas, new ways to stretch what I'm already doing and writing. And that's super cool.
WELL THEN. Today all you've gotten was a rant. But I'd like to spend more time blogging about the things that I'm into lately, the things I'm inspired by, the things that influence my writing, and this is a big one right now so it seemed like a decent place to start. Do you guys want to see more of this, or no? Let me know allll the information. (And then I'll probably keep doing this anyway because I kind of like it.)
What's inspiring you lately? Tell me all about it.