A Words-Related Tag // Happy Birthday to Me
12:48 PM

Two things today!

Today is, as you may have guessed, my birthday. My 16th birthday. So that's kind of weird and crazy and all sorts of things. (People have already been really sweet about it and made my day, so.) Today I'm going to give you both a pretty tag because I can and a list of things because I also can, so bear with me.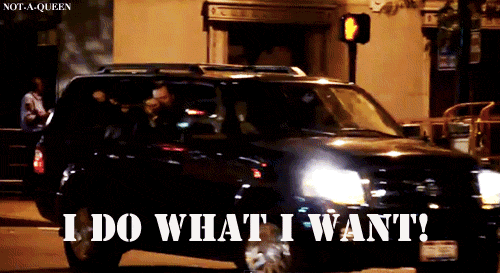 it's been far too long since this gif has come into play.
We're going to start with a tag -- the lovely
Olivia
tagged me for the Power of Words tag forever ago and I like it very much so we're gonna get it done. Huzzah!
Favorite letter of the alphabet. my favorite letter is X because no one uses it and I feel for it and like to be a rebel. It just has such a crisp, interesting sound.
Three words that you love. It could be a long list but if I had to choose three... barricade, slink, macabre. i'm normal i swear.
Three words that you hate. There are far fewer words that I hate because I just love words in general, but I will try. Walked, being, like. Those are the three words I use the most in my writing that I wish I DIDN'T use because those awkward sentences will be the death of me, yo.
If you were to create a word, what would it be + describe? I have always held that steampunkiness is a word. The dictionary says it is not. Sue me. Other than that I really need to find a word for that feeling when you have intense feels over something fictional, but you like the intense pain you get from that fictional thing. Savvy?
Three favorite punctuation marks.
Oh, I love them all. , / ; especially. (I'm not sure the / counts as a punctuation mark. SUE ME. I do what I want.)
Three of your favorite fonts. Honestly plain ol' Times New Roman is my favorite forever because it makes sense to me and I have to stare at it all day! I really like Bebas Neue and Julius Sans One, though. Look at me and my fancy font titles.
pretty, aren't they?
One word that means a lot to you.
"wait" because I am not good at that at all but it is a thing I'm working on, slowly but surely, and something that God's certainly teaching me.
If you could change the way one word sounded what would it be and how would it sound?
Yikes, this is hard. But you know the word "Arkansas"? How about we say that the way it LOOKS? Wouldn't that make more sense to everyone? Maybe? Sigh.
Favorite word that starts with the first letter of your name. Admittedly I do not like many "A" words but Awakening is such a pretty, mysterious word and also the name of one of my favorite Switchfoot songs so there. *nodnod*
Well, that was gloriously fun, and I just really like words, so huzzah for that! Thank you, Olivia! And now...
//Some Birthday Thank-Yous//
Look at this, you guys. 16 years of life here. I MADE IT THIS FAR. That's cause for a celebration, yeah? But I wouldn't have made it this far on my own, and today I wanted to stop and think about all the things that have shaped me, all the things and people and places that mean a lot. So here are some of them.
Mom and dad. Like seriously, oh my gosh. You guys are the best. You've been such great examples and loved me and put up with my weirdness and that is excellent.
The gift of grace. God is good and loving, y'all, even when I definitely don't deserve it, and I'm figuring that out more and more every day.
The library.
How much more of an explanation does this need?
All of you. seriously. I have so many internet frens now and you all make my day. We've laughed and cried and flailed together. Group hug.
Stories. Stories in general. I love them more every day.
Pariah. I hate you, you big mess of a novel. But I also love you. you're teaching me a lot.
Every single day of all 16 years. Let's face it, I literally would not be here if not for you and all the stuff that went down. Just practically.
Neal Shusterman. Thanks for makin' me cry and think about myself as a person, you brilliant writer and excellent jerkface.
Basically: thank you all so much for being here. For putting up with me. For being awesome.
Love you.