10 Types of Writers You'll Find Online
11:43 AM
We're not all the same, after all.
Writers come in all shapes and sizes, and the internet is crawling with them. Some of us are serious. Some of us take nothing seriously. Some of us are plotters. Some of us are...not that.
at all.
We're a very varied group of people, united though we are by a common love of storytelling and procrastinating online. So today, I am going to celebrate those different types of writers you'll find when you log onto Twitter.. And you can figure out which one you are, or whatever, if that's your thing.
A.K.A "the Instagram Writer". This person makes writing look flawlessly beautiful. They frequently post pictures of their writing space, which contains a perfectly clean desk with a clean laptop and sticky notes and a cup of coffee and a notepad. Their handwriting makes yours look pathetic. Every place they write is picturesque -- said desk, the mountains, the beach, a spa, wherever. Their writing life is together. How? You don't know. But they've clearly never had any issues blocking out writing time. Every day. Somewhere beautiful. And finding time to photograph and/or post about it. They probably post on their blog about how to be more creative or the best kinds of tea. (This blog is professionally designed.)
WHERE DO YOU GET YOUR SKILLS
This person has exactly 0% of their writing life worked out. They are working on at least 3 different projects at any given time, usually more than 5. Their writing style can best be described as "non-linear"; they write the scenes they feel like writing at any given time, and try to cobble everything together later. They own boxes upon boxes of notebooks. Their "desk" is another box full of notebooks. They are the Tony Starks of the writing world.
no idea what i'm doing but i'm good at it.
A.K.A. "the Plotter." Their plot outlines are the stuff of legend. Before they even open the Word doc they know chapter by chapter what's going down, the characters are fleshed out, the world is built. They've got this. They need to have got this before they start writing. They are to be admired and feared.
they may or may not have sold their soul to gain these skills
A.K.A. "the Pantser". To the extreme. They take the plot bunny and fly away with it. Plot outline? What's that, a torture device? They'll figure out the main character as they go along. Many of their drafts are plotless. They cannot function with schedules and outlines. They write cool stuff anyway. These people are also to be feared.
they somehow produce coherent stories with no plan? ?????
There's a million things they haven't done, but just you wait. These people are superhuman. NaNoWriMo was built for them -- and they probably went and wrote 100k instead of 50. They turn out a novel a month
and
edit
and
blog besides. Their typing speed reaches the point of insanity. Their goals are insane. They reach them anyway. Do these people ever sleep? Absolutely not.
I am definitely this person, by the way.
"man, the man is NON-STOP."
Does this person ever actually write? Or do they spend 90% of their time talking about how hard writing is on Twitter? This person writes, but they loathe every second of it. We are all this person to some extent. You'll never know if they genuinely hate this or if they just like procrastinating.
at least they blog about writing a lot.
A.K.A. "Brandon Sanderson Wannabe". These people write fantasy, and they take it
seriously
. They've probably created at least one new language and hundreds of new names. They make detailed maps. They could tell you all about the best tourist locations in every one of their many fictional lands. They balance 20 main characters -- in one book -- like it's nothing. They thrive on complex worlds. You do not understand them unless you are one of them, because this is way too much work.
one does not simply write a standalone. 10-book epics are where it's at.
This person REALLY loves their fandom/OTP/fave character. Like, a lot. And they have an entire world of headcanons to back it up. Their work can range from cute fluffy one-shots to massive 50k AU fics. It's crazy. They demand respect, and they should probably have more of it, because they've kind of poured their soul into this thing. And lots of tears besides. Fandom is LIFE asdfghjkl. They cannot even.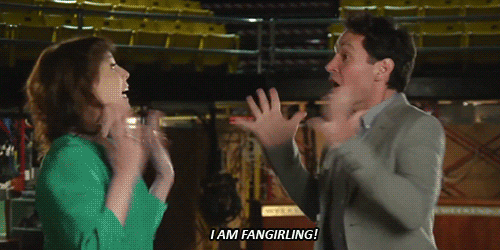 brb dying.
George R.R. Martin is their spirit animal. And they will let you know about it. They can be found most often in their natural habitat: on Twitter, laughing maniacally about the character they just killed off. They live for causing their characters pain and making their readers cry. Their books are
brutal
and they have #noregrets. Muahaha.
they kill everything you love.
"So what genre do you write?" someone asks. They do not know. They've read the entire story. They still don't know. The writer does not know either, and they wrote it. They go places no one else goes. And they enjoy it. Steampunk/Southern Gothic/horror mashup? They'll go there. Hamlet in space. They'll go there. If you can think it up in any concievable way, they will write it, and good luck trying to put them in a box. They are the Twenty One Pilots of literature. Being quirky is their life.
no fear. no regrets.
Now that I've successfully offended and stereotyped everyone...I'm out.
What kind of writer are you?