50k, Creepy Swamp Things, and Other Shenanigans // NaNo #2
7:00 AM

(A lil note: I'm adjusting my posting schedule to twice a week, Tuesdays and Saturdays, for the time being. Because I can, dangit. I have lots of cool post ideas coming, not the least of which is a guest post by a very special bloggy fren...but for now, enjoy more snippets as I throw them at you. I'm also working on a newsletter thing, so that's happening.)

Congratulations, we survived week 2.
Are you dead yet?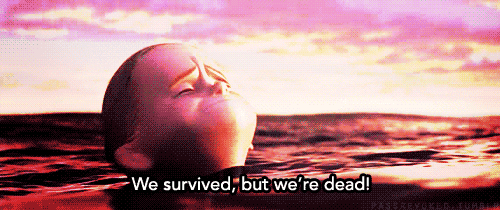 Take a moment. Breathe. Stretch your tired fingers and wrists. Step back from that coffee/tea/beverage of choice. Shake off all the words.
ah yes my favorite gif
We're not done yet. But we made it halfway.
Total word count so far: 50,066
This has possibly been one of the best NaNos ever for me so far, both in productivity and inspiration levels. Halfway into NaNo and halfway into this novel...I'm not hating it and my words and myself and everything else in the world, and that's a frickin' miracle at this point. I'm exhausted, and ready to be done, but...I'm having a blast.
Also, I hit 50k on Sunday.
because i suck, i know. (seriously, don't go crazy about it. i sacrificed everything about my sanity and social life to do this. #notworthit #mostly)
My only thought from this: fantasy is way harder than I anticipated. I'm almost not sure what to do without my guns and spaceships. I do, on the other hand, get to use swords again, which is fun. And worldbuiling is going to be a thing that kills me. This standalone novel has casually warped into a series, another new thing for me, so there's lots to explore and lots to weep over. It's gotten really creepy and really intense real fast. I'm figuring out characters. I'm lost in the wonder of a first draft right now, though, so none of these difficult things seem to matter. I'm a wee bit drunk on words.
As a result, I have no smart observations for you. I've immersed myself in the story...and I guess I'll let that do the talking this week.
Enjoy some Snippets.
casually not writing fantasy horror...EXCEPT THAT I AM
*dramatic music*
in which my shy and soft child speaks up, bless her
bless Finnien, also. I love him too much. #problematicfave
more swamp monsters. sue me.
The lesson here?
Don't let me anywhere near fantasy. I will corrupt it and pants wildly.